Senior Member
Join Date: Apr 2004
Location: cape girardeau, missouri
Posts: 190
motorcycle jack instructions
---
I have the craftsman motorcycle jack , the cheaper one, model 950190
it raises but will not go down with the release pedal. does anyone have any ideas or a owners manual they could scan and e mail me?
I need to get my final drive off so I can put one from a 1300 on
You may have a bad one. Take it back and get a replacement or have them fix it. It is not letting the fluid to return back to the jack.
jim
---
In God we Trust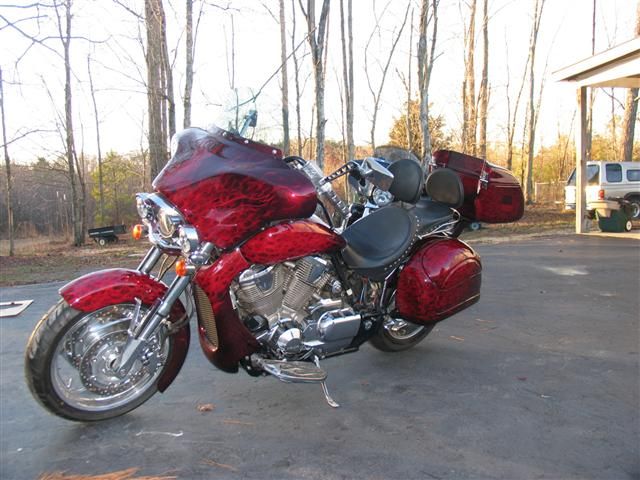 If it dont go down after you pull the safety back, I beleave there is a screw that you can ajust the pressure. I may be the pressure button with a slot in it, I dont remember,
I have not had good luck with those jacks.
Dont have a book for it.
Had a cheap jack stuck in the up position once

Used a 6 foot pry par to lift the safety
from its notch
---
[SIGPIC]http://www.vtxoa.com/forums/picture.php?albumid=211&pictureid=950[/SIGPIC]
Knight wrote:
Quote:
Used a 6 foot pry par to lift the safety
from its notch
Are you sure the safety bar is not resting up against the safety notches? I've never heard of one not coming down. Not goin up yes, but not coming down.
---
If ifs and buts were candy and nuts, every day would be Christmas!
States I've visited on a MC
'04 VTX1800C, magenta dress
'06 Goldwing, dark red comfort package
I had the same jack, had my bike up so I could remove the final drive and send it to Showtime. Just left the bike up while it was sent off it poped a seal and went down on the safety latches, would not pump back up. Dang near lost the bike trying to get it off that jack.

+1 on checking the safety latches never heard of one not going down just up. BTW: Sears told me they don't have a rebuild kit for that jack and they don't repair them. If it is less than a year old they will swap it out. So I have another one but I don't trust it.
---
05 1800N Candy Orange, To many things to list.