Comprehensive Half-Helmet Review with graphs and pictures!
---
Like many of you, I've been searching for a truly low-profile DOT half-helmet for years. To be perfectly honest my quest has reached holy-grail-like proportions and I have probably gone further than most reasonable people would bother. I've been disappointed more times than I care to mention, especially since I bought my helmets online without the benefit of trying them on or seeing a picture of them on a model. We all know about the dreaded "mushroom-cap" and for me, nothing sucks the coolness away from a slick ride more than looking like you've got half a bowling ball on your head.
I've spent a lot of time on this discussion group and not only have you guys saved me a lot of money through the classifieds and product advice, I've also learned more about my ride than I could from any service manual. Since I work in the Design and Photography field, and I've already wasted a lot of money buying all these different helmets, I thought I might as well put them to good use, and besides, I figured that this would be a good way to say thanks and hopefully put this topic to rest for a lot of you.
It's probably important for me to mention a few disclaimers about my review, first, although one helmet scored highest and was the best based in my own personal opinion, a helmet is a pretty personal item and your results may not be the same, also, I am not affiliated or in the employ of any helmet manufacturer or retailer and this review was done purely on my own, and although I have a clear personal favorite, this is a review, not an endorsement, and was done completely objectively. Additionally, I made every effort to research all my facts thoroughly, but if I made an unintentional mistake, I apologize in advance.
My noggin is exactly 22 1/8" in circumference and in all three helmets tested I am a size medium. The three helmets tested were the Head Trip™ extended half, the Daytona™ Skull Cap and the Skid Lid™ Original. I bought the latter two online and the first one through the 1-800 number found at the carbonfiberhelmets.com website (they do not have online ordering). Out of the three, my least favorite was the Skid Lid™. This helmet was the heaviest and least comfortable of the three, mainly because the straps rubbed on top of my ears rather than surrounding them (see photo), this may have to do with my own warped skull, but I didn't have this problem with the other helmets. The Skid Lid™ liner was also not as snug and form-fitting as the others and although the shell is the same size as the Daytona™ it was definitely the most "mushroomy".
The Daytona™ Skull Cap came in a distant second place. This helmet scored highest with comfort, it's very plush and form-fitting and it came down further on my skull than the Skid Lid™ almost touching the top of my ears (see photo). Although the Daytona™ is quite comfy it's appearance and design lines are probably the least attractive of the three. This helmet is available with a quick-connect clasp for an additional $9.95 and in a Carbon Fiber model for $149.95
As you can see by the graph with all the tech-specs, the Head Trip™ helmet is lighter, has a lower profile, and is made with a 50/50 combination of Carbon Fiber and Ballistic quality Kevlar™ rather than ABS Plastic. The inner shock-resistant padding is made of modified polyurethane with a styrene coating rather than the expanded Polystyrene used by the other helmets. This allows for DOT rated shock absorption with a reduced thickness. The Head Trip™ does not have a cushy fabric inner lining like the others, but this has no bearing on comfort. The Head Trip™ instead comes with three different thickness foam inserts that Velcro™ to the padding so that you can "fine tune" your helmet to fit your noggin. The Head Trip™ scored lowest on price, but it's also made with far superior materials, it's also the only one of the three made in the USA.
This Head Trip™ was by far my favorite of the three, and although it's clearly more expensive, to me it was worth every penny. The Head Trip™ is lighter, stronger and has a lower profile than any of the others I tested and was also extremely comfortable on long distance runs, with no "helmet fatigue" whatsoever. The only downside on the Head Trip™ was it's comparative cost, so with that in mind I called Advanced Carbon Composites, and spoke to the owner about my review. I told him that in exchange for a discount for anyone who reads this, I would give him all my photography and graphs for him to use. He agreed to give any one who mentions "Alex's Review" a 10% discount when they order. If your interested in the other helmets reviewed, they are both available at a variety of places (and prices) online including motorhelmets.com and ebay (that's where I got the Skid Lid™ and Daytona™).
I hope my review was enlightening, and I hope you all find some value in it, and if it motivates some of you to wear helmets who might not have normally been inclined, well that's cool too.
Stay safe and ride often…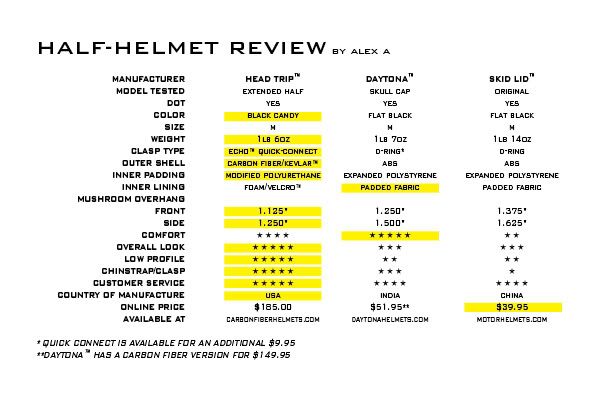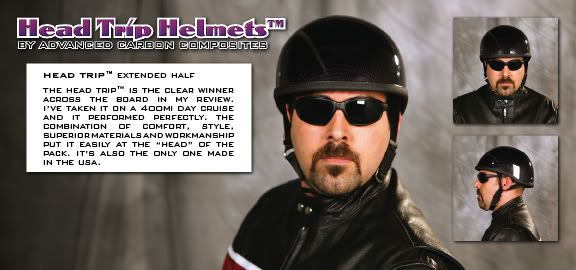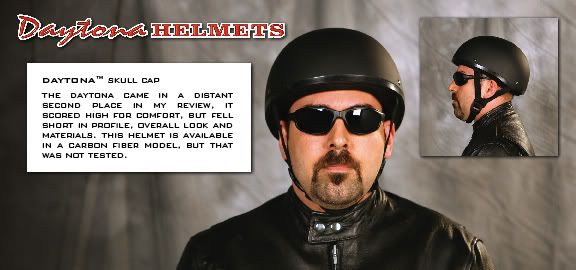 ---
Alex A
Chaska, MN
2005 VTX 1300R
Re: Comprehensive Half-Helmet Review with graphs and pictures!
---
nice job alex...
Re: Comprehensive Half-Helmet Review with graphs and pictures!
---
I've been running a daytona skull cap for accouple years now, and it was the best I had found to date. That Head Trip one looks sick, but my daytona only cost $30. Thanks for the reviews and pictures though!! time to start saving my pennies
---
What's the most dangerous part on a motorcycle?
The nut that connects the seat to the handlebar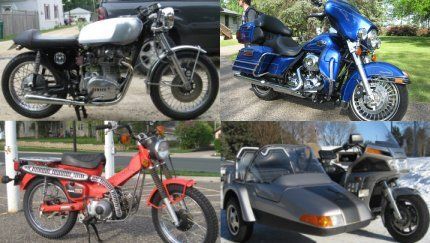 Senior Member
Join Date: Jun 2007
Location: Villa Park, Il
Posts: 298
Re: Comprehensive Half-Helmet Review with graphs and pictures!
---
Thanks so much for a great review, AND the mentioned discount, even if I don't use it I appreciate you doing this on behalf of all the members.

thanks again
Re: Comprehensive Half-Helmet Review with graphs and pictures!
---
My pleasure. Have a great riding season…
---
Alex A
Chaska, MN
2005 VTX 1300R
Re: Comprehensive Half-Helmet Review with graphs and pictures!
---
Great review; thanks for taking the time to compile this information.
---
[SIGPIC][/SIGPIC]
Chrome Cowgirl- Real & Steel
1800N Carlini Apes
DS
& 1800R Carlini Apes- the back-up
~Geyatahi Soquili~
Rebecca WildHorse
SIS National Director/CEO
www.SistersInSpirit.org
Re: Comprehensive Half-Helmet Review with graphs and pictures!
---
You betcha. Sorry about the ugly guy in the pictures, cheapest model I could find.
---
Alex A
Chaska, MN
2005 VTX 1300R
Re: Comprehensive Half-Helmet Review with graphs and pictures!
---
I also have the extended 1/2 helmet from Advanced Carbon Composites size XL. By their sizing chart, it says I needed a L. When it arrived it was too small. I returned it for an XL. No one has ever given me the customer service that they have...they are superior to anyone I've ever dealt with anywhere...which made me feel better about dropping $200 on a half helmet.

My review is absolutely love it. Honestly with speeds under 70mph and no windshield...I cannot tell I even have it on. At higher interstate speeds the cross winds does try to blow the helmet backward on my head. Not upward like its choking me but backward. Spring a little more change on the leather chin strap also.
---
Titanium '06 1300C
Senior Member
Join Date: Nov 2007
Location: NJ
Posts: 233
Re: Comprehensive Half-Helmet Review with graphs and pictures!
---
Very nice write up wish I saw it before I got my Head trip helmet could have saved 10%. I agree totally with the head trip being the best out there in terms of comfort and looks. Just a side note I bought the non-dot head trip helmet it is a little smaller than the dot pictured. If you call advanced carbon composites they will tell you there non-dot which is 109.00 passed all the dot tests except the spear test. This is were they drop a weighted spear on top of the helmet. The reason it fails is the reason for it's smaller size less foam. I went this route for two reasons 1. cost it was about 70.00 dollars less 2. size it is smaller. I am very confident that a spear won't be piercing my head any time soon. So even though my helmet is not fully DOT approved I am confident it will save my head if I fall off and smack it on the pavement. Also this things weighs nothing it is so light you will not even know your wearing it.
Senior Member
Join Date: Jun 2007
Location: Rock Hill, South Carolina
Posts: 197
Re: Comprehensive Half-Helmet Review with graphs and pictures!
---
Super Super review. I own the Daytona, and I really like it especially for the price. But I can see the Head Trip seems to be worth the money. Will definitely look into that on my next helmet purchase because of your review.
---
2002 VTX 1800-S