View Poll Results

: VTX vs M109 vs STREET GLIDE HD

VTX 1800 C or F model
43
45.26%
M109 suzuki
29
30.53%
HD Street Glide
23
24.21%
Voters: 95. You may not vote on this poll
Senior Member
Join Date: Nov 2003
Location: FLOOD LANDS OF THE SOUTH New Orleans, Louisiana
Posts: 4,657
M109 vs VTX 1800 for 09
---
I will be buying another bike this up coming year in January or Febuary.
I am really leaning twards the M109 because of the power and great things I have heard and read obout the Big Suzuki.
Now I also thought about buying a 08 VTX and doing another VTX 1800 Big tired bike like I had before. (
www.bareasschoppers.com
) Left column Red Sled ( but totally different though) I love the reliability of the X but realize it is done for 09 in the 1800 series.
Give me your in put. I would like to have some other opinions of which way I should go and why. ( curious to others opinions)
TASSY5
---
TASSY5 2007 SPEC 2 VTX1800 F Now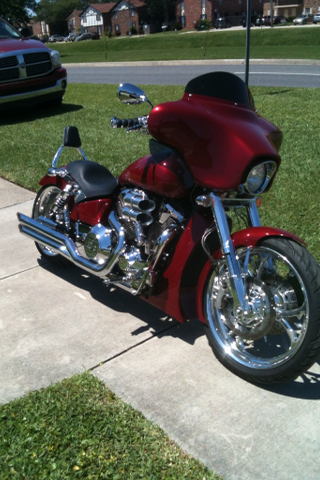 www.bareasschoppers.com
http://forums.bareasschoppers.com/
well.......since the 1800 is DOA i'd go with the M109.
I really like the X, but since it's going away my next choice is the Street Glide. I would however buy an older used one with an 88ci. I think therre are too many issues with the 96ci that HD doesn't want to admit but keep trying to fix quietly (like exhaust heat, cylinder cut out on idle.....) JMO
---
Why is common sense not so common
Why doesn't P.E.T.A. ever attack a biker
I would have to say Street Glide..
---
[SIGPIC][/SIGPIC]


I Am A Down and Out "CHROM WHORE"
Keep it Up Strait
I voted for the Street Glide....Dont get me wrong I love my X and plan on keeping it for quite some time but if I was to get another bike I would get something different and I don't like the looks of the M109
---
2003 1800R, (Black) With lots of stuff added
having just got my 1800X in 8/15/08 i still dig it! and with 7500 mi and good service there are many more miles to go

the streetglide is sweet but pricey and out of my league for now

m109 is nics but not my style


my bike is paid for,cared for and needs nothing,but you know how that goes ( i don't live beyond my means,own everything i have but a portion of my home, been in the debt dept. before and it sucks!)

i guess one day i will get tired of it and move on once i get it the way i want it

if i had to have a new bike it would be the streetglide......


ride hard and live free!
I absolutely loved your Redsled VTX! If I had the money I would duplicate it in a heartbeat. Also seeing your old bike and hopefully understanding your style, I would say you like the power and the 240 tire look. Given that, I would have to say you would probably be happier on the M109.

Good luck w/ your choice whatever it may be.
Senior Member
Join Date: Nov 2003
Location: Fairmont, NC
Posts: 1,471
Based on those 3, I'd definately say the 109....something different this time around,--easy, inexpensive 280 rear, (fills stock fender nicely) and since ya like to build maybe do something a little different like change the headlight cowl to custom single headlight and get a rad shroud/lower cowl that is seperated from the tank.
I definately would take a look at the Raider. My brother has one. Based on my short ride on it, I was impressed and it has alot of potential for more.
I don't know your riding habits and I guess your set on a V-twin but, that Kaw Concours or FJR is definately worth considering. I know...(apples to oranges) but still!!!
Eric
---
I'm smart enough to know.....that I don't know!
No Yamaha Raider? If the street glide and the 109 were the same price i would go for the HD, but being a cheap A$$ I voted for the 109
---
2012 Victory Cross country
[SIGPIC]http://www.vtxoa.com/forums/attachment.php?attachmentid=75391&d=1342403272[/SIGPIC]
I voted C or F.

I have a C model but think the F is about the best looking cruiser besides the semi customs. The M109 is a really nice bike and if you want just the most hp then....

The Raider might have been an interesting option in the poll too.