How to dull Chrome?
---
My taste go for the most part to dull finish like the gun guys out there would know as "satin stainless" but of course all the chrome from Honda and after market parts shine. How do dull them up without taking the plating off of them?
Best I could think of would be scotch-brite pads?
---
2004 1300C, Spyker Mod, FP Stage 3 Kit, Resmogged with Bubs and a bunch of bling.
Media Blasting will produce the most consistent texture.
---
_______________________________________
2005 VTX 1300R Black & Chrome "Black Betty"
I onley apollogise for my speling.
Fine glass bead.
---
02 1800R Orange Baby
Quote:
Originally Posted by
Tin_Can_Terminator
View Post
Media Blasting will produce the most consistent texture.
consistency is going to be vital!
---
[SIGPIC][/SIGPIC]
Post pics when you're done with it. I'm curious to see how it turns out.
---
[SIGPIC][/SIGPIC]Lots of people are like slinkies. Not much good for anything, but fun to watch when ya push 'em down the stairs.
05 1300 C / 02 1800 R
Do not use " sand blasting ".
Find someone who does " soda blasting ".
It's a finer media and I think more likely to give you the desire you are looking for.
Let someone do it for you, that knows what you want and they are doing. If you are not careful about it, you might see what is UNDER the chrome!
It's a nice look and a cool way to rescue scratched chrome!
The best way to obtain the " satin chrome " look is really to strip off the chrome and media blast the base metal to a satin finish, the chrome will take on that finish according to these people ....
http://www.caswellplating.com/
Quote:
Re: satin chrome finish ?
Make the base metal satin by bead blasting, or buffing with a scrubber wheel, then plate. The plated finish takes on the finish of the base metal.
--
Lance Caswell
Caswell Inc
http://www.caswellplating.com
Need Support? Visit our online support section at
http://support.caswellplating.com
Chrome Plating without regulatory hassles ???
They call it REPROCHROME
Quote:
Introducing REPROCHROMEŽ, a unique Cobalt/Tungsten alloy that contains no chrome, nickel or toxic materials. REPROCHROMEŽ duplicates a chrome plate in color, durability and corrosion resistance, without the need for a fume control system or a high powered rectifier. Safer and easier to operate than a regular chrome plating system. REPROCHROMEŽ is not EPA or OSHA regulated.
---
I would like to see this when done too.

Moon
---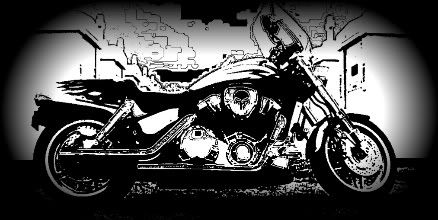 I like the Car Tire and dont plan on going back to the POS Sport
Bike Tires they put on Cruisers.
www.mcdarksiders.forumotion.com