review MatuzaGA hard saddlebags
---
I currently am riding an 08 vtx1300c. I have been looking at buying saddlebags and am wondering if anyone has tried the Matuza GA hard saddlebags on this bike. What are the pros and cons? How is the fit? How about the lights? What is the quality, ease of access and anything else anyone can think of?
Thanks
Senior Member
Join Date: Mar 2008
Location: Chattanooga
Posts: 474
The GA bags have no lights, unless I'm mistaken. Anyhow, I have the MU bags. Lights on mine failed within 30 days. Mutazu sent me replacements that also failed. A hero here on the forum made me some LED replacement boards for the lights, which have not failed, and are also ablout 100% brighter. Otherwise, I am satisfied with the bags. They are cheap - that's the big thing. The GA series costs, what, about $115 a pair? Tsukayu or National hard bags would run closer to $700 a pair. Easy decision for me.

CW
---
Black 2006 VTX : now sold, but still an all-time favorite
2007 Hayabusa
2002 Jack Russell Terrorist - all stock (supercharged from factory)
You'll get what you pay for. I have a pair, they're unimpressive, but can't complain considering the price (bought mine used with easy brackets). In retrospect, I'd have put that money toward a nicer pair of bags. I rarely have them on the bike, just wanted something for a trip. I can see where they would not hold up if they were on the bike all the time.
---
[SIGPIC][/SIGPIC]
'06 1300C, Hard Krome K2's w/ Michaels baffles, Factory Pro rejet, risers, Aeromach Ultraflow air intake,
PAIR removal, SoCal Arizona, 11" Progressive shocks.
Senior Member
Join Date: Apr 2007
Location: Eugene, Oregon
Posts: 995
I have the smaller ones, they are a cheaper bag, but work fine for me.
---
Dave

2008 HD Street Glide
"Who is more irrational? A man who believes in a God he doesn't see, or a man who's offended by a God he doesn't believe in?" Brad Stine
Senior Member
Join Date: Nov 2008
Location: Utah's Area 51
Posts: 761
I have the "GA" bags and I wished I'd have gotten something else!
They look a lot bigger in pics than on the bike. As far as putting stuff in them, they won't hold much. Upside is they're cheap and work well with easybrackets. They don't come with mounting brackets(mine didn't)
---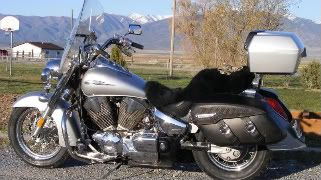 VTXOA 'Members Who Can Help' Map
<<---ClicHere
PGR RC, 2010 GL 1800, DS#1146, 04VTX 1300C
AKA "Pooch" IBA#55800 SS1Kx2, SS2K,BB1500,BBGold Certified
My wife has the MU LN bags on her Shadow they are cheap but work the led lights are impossible to see in the daylight in the turn signals. I went back and forth with Mutazu about this and they basically refunded me the money for the new led boards I bought from them. It is a serious safety issue and they say you should use the turn signals in bags only with your stock turn signals.
I replaced them with 50 watt halogen 1156 bulbs and socket and now you can see the turn signals in the daytime. Even the 1157's I first put in the lights were barely visible in the daytime with the lens they have on the bags.

You get what you pay for but she has had them on in the rain with no leaks and we have somewhere to lock stuff when we are away from the bikes. Just like sunglasses and stuff nothing valuable.
Senior Member
Join Date: May 2006
Location: West Ossipee, NH
Posts: 615
I went with the mutazu bags with reflectors for my C. Price is under $300 to the door with brackets. I keep them on all the time and they are holding up well.
---
2004 VTX1300C ... well not a factory C any longer.
Go with the Tsukayu Strongs. Look for them when HDL has one of their sales. Much better quality and they look great on a black bike.
---
[SIGPIC][/SIGPIC]05 1800c, Black, Cobra Short backrest w/luggage rack, Tsukayu bags, Progressive fork springs, Hondaline lightbar, Progressive 418's, Hondaline lowers, Tsukayu fairing, Mustang seat
Quote:
The GA bags have no lights, unless I'm mistaken. Anyhow, I have the MU bags. Lights on mine failed within 30 days. Mutazu sent me replacements that also failed. A hero here on the forum made me some LED replacement boards for the lights, which have not failed, and are also ablout 100% brighter. Otherwise, I am satisfied with the bags. They are cheap - that's the big thing. The GA series costs, what, about $115 a pair? Tsukayu or National hard bags would run closer to $700 a pair. Easy decision for me.

CW
I also have the MU bags. I did a bunch of mods to so they would sit really close to the fender. The one thing I HATE about the bags is the wimpy lights. Does the guy who made your lights have any desire to make another pair? If not, my idea is to get a pair of LED taillights from a trucker chrome shop like "Iowa 80". That's where I got the turnsignals for my last saddle bags.
http://www.iowa80.com/DirectionsWEB/...%2FCR.+RIM+CLR
.
Quote:
I went with the mutazu bags with reflectors for my C. Price is under $300 to the door with brackets. I keep them on all the time and they are holding up well.
what style bags are those ?
---
99 problems, but a Bike ain't one!!!