ORDER NOW ur 2010 East Coast VTX Gathering t-shirt
---
Order NOW ur 2010 VTX East Coast Gathering T-shirts
Shirts are available in black or white, short-sleeved, 100% pre-shrunk cotton
Prices are as follows: sizes small – XL $12.00; per manufacturer, and additional $1 will be charged per additional sizes after XL
(example: XXL = $1 additional, XXXL = $2 additional, etc..)
Please send the attached, completed form with check or money order payment to:
Jason "Bulldog" Toombs


322 Deacon Road


Fredericksburg, VA 22405
***For PayPal members, please contact Bulldog directly, for PayPal information.
**T-Shirt Order deadline is June 1, 2010.
Front Logo: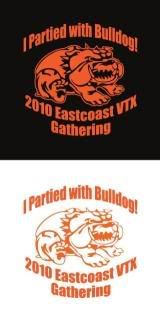 Back Logo:
__________________
__________________
ang went through last night and started a spreadsheet on orders recieved either by snail mail or paypal and we are only up to about 50 shirts so far, we need to get 120-144 to keep the price we were quoted. remember these are a pre order only and that none will be offered at or after the event, also remember that june 1, 2010 is the cutoff date for you orders , so please go ahead and order before you forget about it and get left out.
make sure to get the form and have filled out and include all info, name , screen name , address, size, color , and quanity.
form can be found here
http://www.forum.mdxiles.com/phpBB3/...php?f=5&t=1787
payments can be mailed , if check, cash, or money order to
jason bulldog toombs
322 deacon rd
fredericksburg va 22405
paypal address is
vtxgathering@live.com
thanks and cant wait to see you all