Member
Join Date: Jul 2016
Posts: 91
Cobra pipes too loud
---
Just installed a set of Cobra Angled Slashcut exhausts. They are too loud so I installed the Thunder Monster QQ baffles, no real difference in volume. I called V&H to find out if their quiet baffles would fit the 2-1/8" I.D. of my pipes but they do not. Any thoughts to quiet it down some? Would wrapping the cobra baffles do anything? Have searched on the site but haven't found a good answer. Thanks in advance for any suggestions.
No, wrapping the baffles will not do much for volume. Nor will buying others baffles change the volume. All aftermarket pipes are loud. Send your OEM muffler to some one like
http://www.vtxexhaust.com/
and tell them you don't very loud, just a rumble and they can help. Then, sell your Cobras to someone else to recoup some of your money.
Going deaf in right ear... I could wear foam plugs but too lazy.
I figure worth it so others can hear me. I can be approaching a walker and they will stop and turn around to look at me. Young cows run to their mommas. Buzzards fly up off the ground and make me shirt my pants.
---
I have the same Cobras and the same baffles and hold the same opinion that they're too loud but I use earplugs and bear it.

You gotta just think of aftermarket pipes as running straight headers that bypass mufflers, cause that's essentially what they are and there's really no viable solution tone down the volume.
Senior Member
Join Date: Jun 2014
Location: Jackson, MS
Posts: 1,903
The quiet baffles helped my V&H somewhat. They still wake the dead. They came on bike an I've gotten used to them. I'd probably like the stock ones..
Member
Join Date: Jul 2016
Posts: 91
Thanks guys, am wearing my shooting earplugs.
Senior Member
Join Date: Aug 2014
Location: Los angeles
Posts: 979
I have the Cobras, but they came with the bike, so I don't know any different. Yes, they are loud, but traffic here in Los Angels is always busy and loud too. I like the idea that most will hear me coming before they see me. If I lived in a quieter area, I'm sure my thinking would be different.
---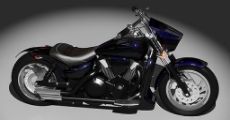 My build page -
http://www.vtxoa.com/forums/showthre...00C-build-page
Senior Member
Join Date: Jun 2014
Location: Louisville, KY
Posts: 1,154
I have the Cobra Slash Cuts. I had the modified VTX Exhaust on there first (without the baffles). I actually thought the Cobras were a little quieter than the modified OEM pipes, but with a somewhat deeper growl. I've heard a LOT of pipes that are louder than mine. I like the Cobras because if I stay off the throttle, they are quiet enough for the neighborhood. But when I want to get attention, I just crank on the throttle and watch the heads turn!!!
---
2007 1800T, Memphis Shades 21" Windshield, Kury Engine Bars & Foot Pegs, HondaLine Light Bar, Mean City Cycles Seat, Cobra Slash-Cut Pipes, Progressive 430 Shocks, HondaLine Saddlebags, Iron Horse Tail Bag, Show Chrome Front Fender Rail, Color-Matched Radiator Housing, Kury Iso-Grips, Custom Breather Cover. GO TEAM DREW!!!
Senior Member
Join Date: Aug 2016
Posts: 119
Lol switched from Rinehart pipes to cobras angled slash cuts. The cobras are quiet in comparison.

Sent from my SAMSUNG-SM-G900A using Tapatalk
Try Freedom Performance for pipes.. they have different baffle options and can come with CO2 bungs if installing optional auto tune sensors as I have


Styles to suit VTX to boot...


Side note.. I never did like Cobra pipes.. IMO


Cheer'z
---
'FrogDog' is never wrong, Only mistaken'