Junior Member
Join Date: Jun 2006
Posts: 6
hard saddle bags for honda vtx 1300 s 2004
---
Which hard bags fit and look the best for a honda vtx 1300 2004 s with stock seat and sissy bar
Senior Member
Join Date: Nov 2005
Location: Milwaukee WI
Posts: 3,685
I have National Cycle bags on mine. Look good and plenty of room
[img]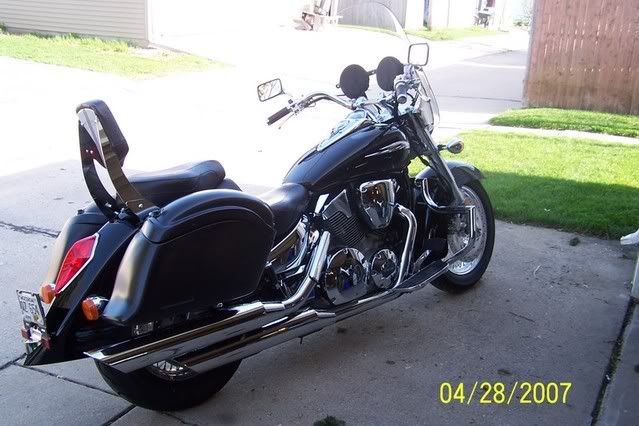 [/img]
[img]
[/img]
---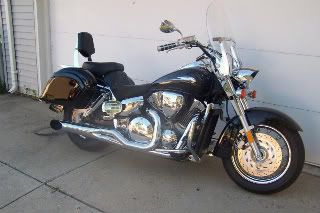 What part of "shall not be infringed" dont you understand?
Senior Member
Join Date: Jul 2007
Location: U.C 510 sunny cali.
Posts: 1,026
Re: hard saddle bags for honda vtx 1300 s 2004
---
Quote:
Originally Posted by vtxnascar
Which hard bags fit and look the best for a honda vtx 1300 2004 s with stock seat and sissy bar
It's a personal preference.
Check out Corbin Beetle bag but it's a bit pricey
---
http://www.vtxoa.com/forums/viewtopic.php?t=208748
Click on this link for a similar thread. I wrote about my personal research on saddle bags. Hope it helps.
---
Take care & be safe.
J.D.

Candy Red '05 VTX 1300R- HONDA: wndshld, lt bar w/visors, dlx bkrest/pad, carrier; COBRA: shaft cover, Fatty bars; V & H Big Shot pipes KURYAKYN: ISO grips, stiletto ends, throt boss, wide levers, clutch cover, offset Dually highway pegs; SHOW CHROME: "V" rad. cover, fuel valve, choke; chrome fender strips, Progress. susp., Motoleather.com Super Reinforced bags
Senior Member
Nation Cycle Cruiseliner Hard bags....
BACK IN BLACK...
i have the beetle bage an love them. they flow with the bike.
---
05 1300R candy red... beetlebags, skull breather, ISO grips an spikes, red trim ring, skull grill cover, $4.00 studded seat mod, studded finder bib, HDL crash bar, 80 FLH fairing, chrome around the tank lip... an soon to come HK sideburners
Junior Member
Join Date: Sep 2012
Location: Fort Hood
Posts: 19
Quote:
Nation Cycle Cruiseliner Hard bags....
BACK IN BLACK...
What kind of hard bag do you have with the passenger back rest?
Senior Member
Join Date: Jul 2009
Location: Proctor, WV westpennsyltucky
Posts: 6,206
tsukayu vtx specific bags
http://tsukayu.com/
---
"Government, even in its best state, is but a necessary evil; in its worst state, an intolerable one."
Thomas Paine
Where is our government!
I have the Champion Patriot Hard bags.
---

[SIGPIC][/SIGPIC]
05 Titanium 1300C, Honda Windshield, Kury Pegs, Floorboards & Grips, Deluxe Backrest, Chrome D/S Cover, Brake Master Cylinder, Radiator, Neck, & Side Covers, Cobra Slash Cut Slip-Ons, Cobra Fatty Highway Bar w/Kury Longhorn Dually ISO Pegs, Mustang Wide Touring Seat, Champion Patriot saddle bags. Patriot Guard Rider, USN-RET
Roadkrome Sturgis here with easy brackets
---
[SIGPIC][/SIGPIC]
Sent from my 8-Track player using Morse Code.