!! MMR09 - Midwest Motorcycle Rally... Website !!
---
We would like to invite you all to the 2nd Annual Midwest Motorcycle Rally (MMR09)... July 16th - 19th 2009

This event in La Crosse Wisconsin was a huge hit last year put on by all of us Midwest riders from the VTXOA.

Thanks to Hal and DLP for being one of the official sponsors.

Please check out the website below with all the rides & events:


www.midwestmotorcyclerally.com


Thanks for looking and hope to see allot of you there
Caps
I've made some new updates to the MMR09 Website I think you all will like.

Here they are:
1. Picture of "Featured Rider" selected on the 1st and 15th of each month. Winner receives a free MMR09 key chain.

2. MMR on YouTube. Check it out... 4 music videos added.

3. T-dogs "Roll Call" Location Map. See all the people who have Registered so far. See their picture and where they are coming from.

4. Dog Tags. Last year Curt "bigdaddy1" from Wisconsin said "I'm an old fart and need a way to remember peoples names"
So... I'm going to make up these cool dog tags and engrave them myself to save on cost. They are a must. Go check em out
Check out all these new features on the front page of the MMR09 Website
www.midwestmotorcyclerally.com
rally
---
Caps,

Awesome job on the site...I am going to do my best to be there.

Steel
---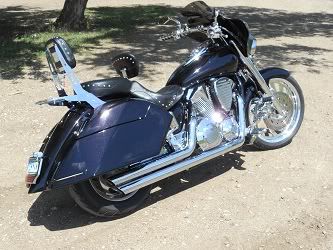 I just sent this email out to all the Registered MMR riders:


Hey everyone!
One event added this year to the Midwest Motorcycle Rally is a Moonlight Yacht Cruise along the Mississippi River.
The boat tour takes off at 10pm Friday night for an hour and a half and arriving back to shore around 11:30pm. The cost per person is $19.95. We need a commitment of 25 people minimum to reserve our group party. Included in the price is free Pizza, Beer and Pop.
I need to send in a down payment of half the cost which is $250.00. I need to hurry and do this to reserve our Yacht. I will go ahead and pay the down payment if you will email me back and say you want to go. Please send me the payment of $19.95 person in the next two weeks though by check or money order.
If you pay and canít make it at the last minute, I will do everything I can to refund your money but cannot guarantee it.
I will send out an email every few days letting you know how many we have. If I donít get 25 people to commit in the next 2 weeks, I will take this off the Event list and send your money back.
Please check out the Island Girl Yacht Cruise website below:
http://www.islandgirlcruises.com/index.html
If you want to pay by Paypal instead, please send a couple more bucks so I donít take a huge Paypal cost hit.
PM me for my address or Paypal
Thanks,
Caps

OK all you procrastinators! MMR09 is less than 30 days out! (has it been a year already??!!)
Just wanted to give a quick bump to serve as a reminder if you haven't done so, be sure to
get registered
for the rally and get your place to rest your heads booked!
Also, if you have not checked the site recently please do so. There is a lot of new information and rumor has it, a lot more to come in the coming week! Check it often and dont forget to support our sponsors!!
7 days out!
OK, now you are registered and you have your accommodations all set!
But wait, there's more!
Donít forget to check the site for all of the
EVENTS
and
RIDES
!
I am actually leading one of them and I have started a little informational thread here:
http://www.northstarriders.com/phpbb/viewtopic.php?f=11&t=141
Looking forward to hanging with everyone!
Ryan