---
2006 Shadow Aero 750 (sold Oct 2018 )
2008 VTX1300T
Welcome from Big D
---
My VTX
as used
on Race Tech site
.
I'm70
rode
07 Black Cherry VTX 1300R
to
49
States+DC &
11
Provinces,
138,000mi
+Yamaha RSV,
36,000m
i,both w/aux tank & Race Tech Suspension
IBA:Mile Eater Bronze &Silver,SS3000,3xSS2000,EclipseSS1000Gold, 18SS1000,6xBB1500,3TX1000,NPT 29/76; Lake Superior Circle Tour
15 to 20K per yr between the two MCs
Senior Member
Join Date: Mar 2018
Location: I live in central NM
Posts: 109
Welcome from central New Mexico... where all is... whatever. Just kidding the riding and sunshine is great.
---
07 1300c New Ultimate Seat(Green stitching), All new led lights (HL TS BL), Viking Challenger bags, 2" Risers, New speedo face with green led's


"The one who drives when he's been drink'in Depends on you to do the think'in".
Senior Member
Join Date: Nov 2008
Location: Utah's Area 51
Posts: 814
Welcome from Utah's Area 51!
---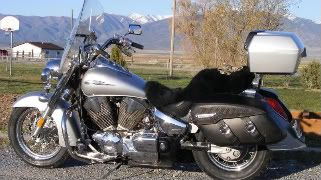 VTXOA 'Members Who Can Help' Map
<<---ClicHere
PGR RC, 2010 GL 1800 Endeavor Reverse Trike, DS#1146, 04VTX 1300C
AKA "Pooch" IBA#55800 SS1Kx3, SS2K,BB1500x2,BBGold, 50CC Certified
Senior Member
Join Date: Jun 2014
Location: Louisville, KY
Posts: 2,531
Welcome to the board from Kentucky. Great group of folks on here, and we'll be happy to answer any questions you might have.
Safe Riding.
---
2007 1800T, Memphis Shades 21", Kury Engine Bar & Pegs, HondaLine Light Bar, Ultimate Seats, Cobra Slash-Cuts, Progressive 430 Shocks & Springs, HondaLine Saddlebags, Iron Horse Tail Bag, Fender Rail, Color-Matched Radiator Housing, Show Chrome Fringe, Kury Iso-Grips, Custom Breather Cover. GO TEAM DREW!!!
Welcome from New York where for the next few months all I'll be doing is adding stuff and waiting for the spring.
---
It's not the speed....it's that sudden stop.
Senior Member
Join Date: Jul 2018
Location: Kalyfornya, TX
Posts: 567
Welcome to the VTXASG (VTX Addition Support Group) .... where we gladly support each other's addiction.
And a big Howdy from another part of TX! (I'm not gonna say where because I am pretty ashamed to live in the libtard crybaby capital of the world)
In Amarillo, you should have plenty of gorgeous days to ride. Just stay off the road this Thursday and Friday, not gonna be pretty with the icing cold front.
---
VTX 1800C
Junior Member
Join Date: Nov 2018
Posts: 4
Hans&feet, yes, that's them! Sorry for the late reply. I've been pretty busy here lately. My dad and I are actually going to the indian dealership later today to take a look around. He recently retired and my X makes him miss his. I love the indians and want to add one to my family. Also, he can ride my X so I have riding buddies that aren't harley fanboys 😄. Speaking of, I finally had to shut up the 3 guys I ride with. We were all cruising the other night and one by one, they lined up with me and started revving. I embarrassed an 88ci fatboy, 96ci glide, and 103ci softail.