Junior Member
Join Date: Nov 2018
Posts: 4
New rider here
---
Hello, everyone! A few weeks ago i made ny first bike purchase and picked up a 2002 1800c with 22k miles. My old man had one identical to this and i remembered how he always beemed with pride when the only wrenching he did was adding aftermarket goodies. He was a part of this forum years ago and i believe his name here was Fozzman. If anyone is ever around Amarillo, TX and wants to go ride, let me know! I look forward to being a part of the group.

Jared
Senior Member
Join Date: Sep 2014
Location: Hesperia, Ca
Posts: 2,745
Welcome Jared from rainy So Calif.
.
Welcome from western Arkansas
Welcome Jared from east Texas
---
04 1800 C.....Candy Orange Flame....R.I.P.
07 1800 C.....Well that's what the title said
Senior Member
Join Date: Jun 2005
Location: Conyers/McDonough, GA
Posts: 10,051
Welcome to the VTXOA!
I found
Fozz join date Nov 25, 2003 with Total Posts: 462;; and 57 threads started;
Last Activity: 04-29-2009 01:16 AM
fozzie with no posts or threads;
fozzir in San Diego.
There is also this,
http://www.texasxriders.com/index.php
https://www.vtxoa.com/forums/5-gener...nally-did.html
Did your Mother upgrade to a 1300?
We are now a "2" VTX family as of today!
I found a deal on a 2003 1300 Retro that I just couldn't pass up. Now I'll be selling the wife's VLX 600, and she'll be able to keep up with me on the road trips! (well, somewhat!)
---
2005 1300c Red, Mustang seat, HK 2.5 straights. Leds for safety-front & back. 191,975 VTX miles
---
Last edited by Hans&Feet; 11-29-2018 at

03:00 PM

.
Welcome to the board where your questions will be answered
---
2003 c cobra floorboards-memphis windshield-roadhouse shorty
Senior Member
Join Date: Oct 2015
Location: Port Orange, Florida
Posts: 2,071
---
Welcome from Daytona Beach, enjoy and ride safely.
Senior Member
Join Date: Aug 2014
Location: Los angeles
Posts: 1,068
Another sunny welcome - err..., kinda rainy right now though - from Southern California
---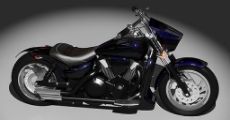 My build page -
Home