New member - 2006 VTX 1800F Spec 3
---
Greets all,

Long time sport bike, sport/ADV touring rider, recently converted the realm of the cruisers. Did some reading and decided a "muscle" cruiser was what I wanted, went to look at Harey Davidson, and realized they just didn't have what I was looking for, even in older V-Rods. Started thinking about a Suzuki Boulevard M109R, when I stumbled onto the VTX and it was love at first sight. Spent weeks "starring" or "favoriting" for sale posts on Craigslist and on Facebook, even joined here to read more, because I had decided I would buy a VTX 1800 and continued looking for the perfect bike for me... Almost bought a "C" with 40k miles, when I decided to check with the used motorcycle dealer I bought my 2015 Kawasaki Versys 650 LT that I commute on daily. I couldn't believe they had my holy grail VTX for sale, a 2006 Tribal Silver "F" Spec 3. I have had it for 2 days now and have no regrets after several hundred miles. With 14k miles on it I am looking for a long relationship with my new bike, and have decided to commute on it for the next week or more, Manteca to San Francisco and back (156 miles daily).

Been an absolute blast so far!
---
2006 VTX 1800F3 - Tribal Silver
Senior Member
Join Date: Oct 2015
Location: Port Orange, Florida
Posts: 2,071
---
Welcome from Daytona Beach, enjoy and ride safely.
Senior Member
Join Date: Aug 2007
Location: RGV. Texas, Former N.E. Ohio
Posts: 8,559
Welcome,, fellow "F" owner.. and Silver Tribal to boot..

got my 2005 New..86,000 miles currently.
Feb 2005.. first week of production.

I am also an "X" sport bike rider.... many track days...
CBR1000F, Hurricane. 12 years of ownership.

you will be surprised what the "F" can due.. with a sport bike style of riding..
she can "Carve" a corner WELL... if you allow her.


you are now a member of the "F" Troop.
---
2005 VTX1800 F, type II, Silver Tribal, 86,000 Miles, Purchased Feb, 2005.
MTC clutch & springs.. K&N Air Filter. Garmin 2597 GPS.
---
Last edited by chuck_VTX F; 04-06-2019 at

06:25 AM

.
Welcome from the east Texas Piney Woods. Enjoy the addiction
---
04 1800 C.....Candy Orange Flame....R.I.P.
07 1800 C.....Well that's what the title said
Senior Member
Join Date: Jun 2005
Location: Conyers/McDonough, GA
Posts: 10,051
Welcome to the VTXOA!
Nice VTX!
My Bro in law had a silver 2005 F, he had to get one after sitting on one at 2005 Honda Homecoming.
---
2005 1300c Red, Mustang seat, HK 2.5 straights. Leds for safety-front & back. 191,975 VTX miles
Junior Member
Join Date: Apr 2019
Location: Manteca, CA
Posts: 15
Thanks to all for the warm welcome! Looking forward to a long term relationship with my new-to-me VTX!
Junior Member
Join Date: Sep 2018
Location: Saskatchewan
Posts: 26
You're going to F'n LOVE the F!!!!
Welcome!
---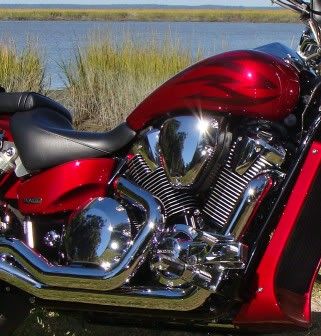 2008 VTX1800F Tribal Red
Fred SAV/GA
---
2006 Shadow Aero 750 (sold Oct 2018 )
2008 VTX1300T
Senior Member
Join Date: Sep 2014
Location: Hesperia, Ca
Posts: 2,745
Welcome from So Calif..
Sweet ride, congrats...
.