Senior Member
Join Date: Aug 2004
Location: Jupiter, Florida
Posts: 2,341
I could possibly be in for LW Thurs-
---
03 Black 1800C - For Sale
08 Orange 1800N
12 FLHTCU Harley Ember Red Sunglow Ultra Classic-

Cool Pop & Wolf1 were my friends- RIP Bro's
I could do Hooters or LW. Nice ride back from LW, bike deal didn't show me much.
---
IF IT AIN'T BROKE DON'T FIX IT!
I am leaning toward Lake Worth myself. Susan wants in for the ride back, she could care less about the company
Slick, you in? Mike you in? We should be in LW around 7:30.
Anyone with suggestions on which place to eat? The place we went last time was ok but the service was very slow.
Let's set a meet time at 6:15 at the Shell Station on Griffin Road and I-75 on Thursday. Anyone else wants to join us? It's a great ride home from Lake Worth on A1A.
Batman
Yes I will have your drill
---
Senior Member
Join Date: Aug 2004
Location: Jupiter, Florida
Posts: 2,341
If the weather holds, and I feel as good as I do today, I'm in-
---
03 Black 1800C - For Sale
08 Orange 1800N
12 FLHTCU Harley Ember Red Sunglow Ultra Classic-

Cool Pop & Wolf1 were my friends- RIP Bro's
Then by all means I must go, see ya at the Shell. (lets see if we can both leave from the same one this time)
---
IF IT AIN'T BROKE DON'T FIX IT!
Senior Member
Join Date: Mar 2005
Location: Wellington, FL
Posts: 865
Can't go, kind of. I'll be playing at some club Thursday night in Lake Worth but I'm not sure where........
---
http://www.meetup.com/PBCruisers/
2003 VTX 1800C, 2008 Ridley Limited Edition, 1999 Valkyrie Tourer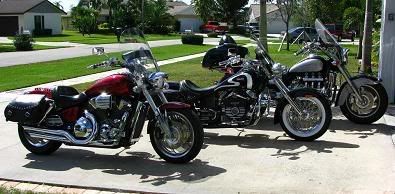 IBA # 30432
I think I/we can make this one. let me know Slick
---
2003 1800R Candy Orange.
Dunlop Direzza Sport Z1 Star 205-55-16 HID lighting(Kits available)
Only a biker knows why a dog sticks his head out a window"[SIGPIC][/SIGPIC]
Senior Member
Join Date: Jan 2005
Location: Coral Springs Fl
Posts: 1,689
Enjoy..Wish I could make it..

All work and no play is making Gonzo a dull boy
Well I'll be at hooters,
---
I have to get up each day at 4:45, Need to be home early, Catch you guys one of these nights.

Yea all work does make a dull boy.
---
SHARKY USMVMC
2001 Valkyrie Interstarte
1988 Valkyrie Bagger
2004 VTX 1300 R Sold
[SIGPIC][/SIGPIC]