Senior Member
Join Date: Sep 2006
Location: Rapid City, SD
Posts: 5,143
Re: PIcs of your bike
---
is the sig pic enough?
as for what I have done... you better ask if you have questions, I'm not about to try and list all of it
It started out as an F model...
---
-Richard
05 1800F/N - the goodies keep getting better...
I walk on water
CLICK here for Darkside Forum
DS -01/06/07
Senior Member
Join Date: Aug 2006
Location: Panama City, FL
Posts: 300
Re: PIcs of your bike
---
Flags are really my only big performance mods...they act as vertical stabilizers going into corners!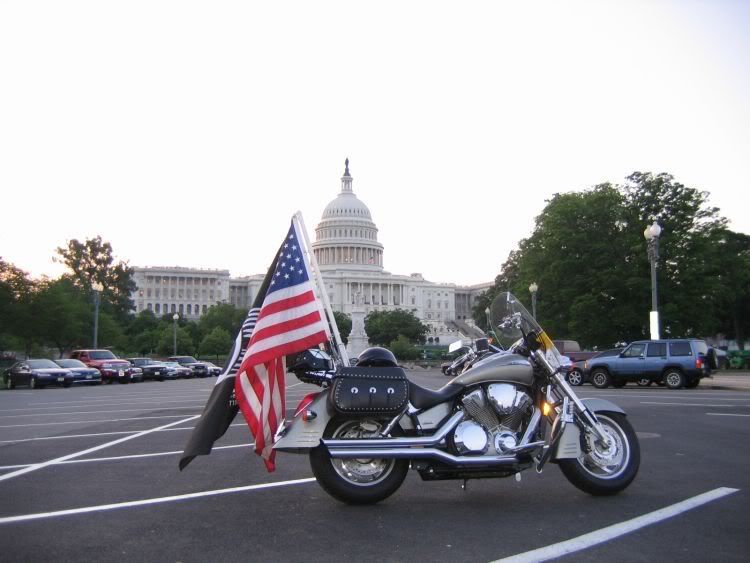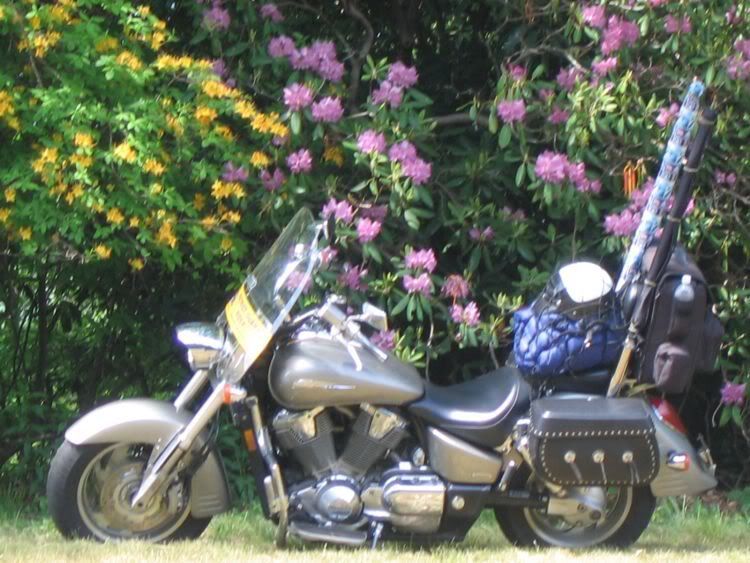 And I thought this pic turned out great
Re: PIcs of your bike
---
Here's my baby (sig pic). Soon to have some more mods like MTC clutch with Suzuki M109 springs.
---
[SIGPIC][/SIGPIC]

'06 1800 C, Jardine Rumblers, Hypercharger Pro R, L&R Extremes 5" Forwards, Windvest 16", MTC Clutch, Hondaline Sissybar & Rack, Ergo Seat
Not the best pic of my ride, but here ya go.
---
​05 VTX1800 F3 SPEC1, BARON BIG AIR KIT, COBRA SPEEDSTER SHORTS EXHAUST, PC III USB, MTC CLUTCH/SPRINGS/SHIMS, DESMOGED, CORBIN YOUNG GUNS SEAT,HONDALINE LOW PASS BACKREST, FLANDERS 33" 18* DRAG BAR, KURYAKYN FORWARD CONTROL EXTENSIONS, CUSTOM LIGHTING EFX ENGINE & FRAME LED'S, CUSTOM 110CI CLUTCH COVER, GLENS GAS CAP HINGE


Senior Member
Join Date: Mar 2011
Location: Tyngsboro Ma
Posts: 660
2003 1800C
Harley Fairing
Pioneer Stereo
Boss Speakers/Tweeters
Garmin GPS
RAM Cell Phone and GPS Mounts
Cobra Light Bar
Fairing Mounted Mirrors
Led Rear Turn Signals
Skull Mounted on Stock Intake
Kuryakyn Switch Covers
Big Bike Parts Highway Bars
Cobra Floorboards
Kuryakyn Highway Pegs
Harley Street Glide Bars
Kuryakyn ISO Grips
R model Risers
Harley Police Bags
Saddlebag Extensions
Harley Chopped Tour Pack/Custom Rack
Custom Dual Exhaust with Harley/Vance & Hines Slip Ons
Custom Rear Fender
Custom Saddlebag Mounts
Kuryakyn Engine Cover Inserts
Saddleman Renagade Solo Seat
Ultimate Big Boy Driver and Passenger Seat
Satin Black Paint
T-bags 3 Pocket Windshield Pouch
And more Im forgetting I'm sure...
2007 F3
---
*****************************
Hondabilly

2007 Honda VTX1800F3
NC Paladin Engine Guards
NC Switchblade Shorty Windscreen
PIAA LP530 LED Driving Lamps
Joe Shaw Custom Fabrications
Kuryakyn chrome bungee knobs
2006 1800 C spec 3
---
Cobra speedster slashdown pipes
Kury ProR hyper charger w K&N filter
PCIII usb fuel manager
pair valve mod done
Mean City Cycles seat
kermit mod with Radiantz led plate frame
kool metal fork end caps
Kury ISO grips w/Koolmetal helmet lock end caps
Kury Swingwing pegs (rider)
Kury Sweptwing pegs on longhorn offsets cruise pegs (not shown)
Kury ISO passenger pegs (not shown)
Saddleman desperado saddlebags (not shown)
Glens 2" headlight extension
Memphis Shades Hellcat windshield
Cobra backrest and luggage rack
Progressive fork springs
Kury Triple Whammy R/T/B system
Bosch plus4 sparkplugs
Aeromach 6" risers
---
Livin' Blue in a Red state.
6 year old thread comes alive
---
VTX 1800R, QQ drop bags/fender, Street Glide fairing, 8 speakers, Rockford Fosgate amp, Kenwood head unit, custom seat.
Good Resurrection of this thread,
Show's our site is very active and people are searching,
Which is Relevant,
Spring is coming, let's see more of your bikes and Mod's,

REAPS
---
1800r, Double Darkside, 1300Final,[SIGPIC][/SIGPIC]