2003 1800c. Powdercoating piece by piece
Senior Member
Join Date: Aug 2014
Location: Los angeles
Posts: 1,068
Senior Member
Join Date: Aug 2014
Location: Los angeles
Posts: 1,068
Hudson, I'm debating about powder coating my heat shields? Did you use high temp powder coat, or the standard 400 degree pc?
---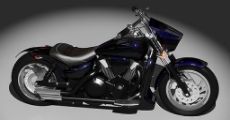 My build page -
Home
Junior Member
Join Date: Jul 2018
Location: Phoenix AZ
Posts: 9
Quote:
Been awhile since I uploaded some pics...
I really like the pipes on your bike. That's a sweet look how they flow into one.
---
04 VTX 1300C purchased 7/21/18