Join Date: Jul 2008
Posts: 7
PIcs of your bike
---
OK guys i am sure there is already one of these on this here but i want pics of your VTX. and a list of what you did to it HP numbers if you have them and so on i just got a new 1800c and it is my first "cruiser" i was all sport bikes until now and want to see what people are coming up with to do to these bad ass bikes
Re: PIcs of your bike
---
Ask and you shall receive.
Not much done here yet, just got it too.
Hard Krome 3" Stagered Pipes
Engine Guards...dont know what kind
Re: PIcs of your bike
---
---
18C-31T-215/65
Re: PIcs of your bike
---
This was taken last year.
Pretty much stock, just a few gagets. Garage door opener (via remote button), LED's behind air cover.
Mostly cosmetic.
JT
---
[SIGPIC][/SIGPIC]
Jim: 04 VTX1800R spec 3, Candy Black Cherry, Hondaline windshield/
saddle bags/backrest, Mustang Seat
1 1/2 fatty hwy bars, hwy pegs,
Cyclecraft Tach, Breakaway, Chrome tips.
Re: PIcs of your bike
---
Pic below.
---
02 1800 R/S Candy Red
Hondaline bags, shield, and lightbar, Bigshots, PC III, Mustang, Palladin guards, Kury grips, CCS-100 cruise, Stebel Nautilus, desmogged, ground mod, tail light mod
Junior Member
Join Date: May 2008
Location: Winchester, TN
Posts: 23
Re: PIcs of your bike
---
Here's my baby both in the light and being the light
---
[SIGPIC][/SIGPIC]
Senior Member
Join Date: Apr 2007
Location: Terre Haute, IN
Posts: 461
Re: PIcs of your bike
---
Not a great pic, I hope to get more more next weekend on my ride. I took this one quick to show the seat for sale LOL.
List the mods? Oh crap, I dont know if I can remember them all!
Front Springs.
Desmog.
Ground fix.
Air Breather, bought used and dont know the brand.
Ultimate big boy seats, and a couple others
Honda Windshield, modified for quick removal.
Honda Backrest, modified for quick removal.
Two sets of bags with Honda bracket, bags modified to change easily, looking for easy brackets so I can ride with no saddlebags if I should feel the need.
Kury Deep Bezels.
Honda Light bar, re-wired to shut off while starting and so that I can use 55w bulbs.
Accessory lead ran for GPS, outlet wired to be taken off quickly.
X-hinge for gas cap.
Kury grips.
Kury stilleto ? ends for the grips.
Kury fender louvers?
(cant remember name) passenger foot peg extensions.
Bub Jugg hugger exhaust.
Home made mount for GPS (tom tom) Ordering more professional looking mount
Im sure Im missing lots of stuff, but thats off the top of my head. As you can tell most of my mods are with the mindset of changing from single rider to two up easy. Had I purchased all the stuff myself I would have done some things differently. But the shield and backrest and bags were on it when I bought it so I modified them to fit my needs.
I already have a few more things on order, but my list of things I need to do is finally getting shorter
Woody
---
[SIGPIC]https://www.vtxoa.com/forums/signaturepics/sigpic26852_1.gif[/SIGPIC]
Re: PIcs of your bike
---
03 "S"
95hp 105fpt
PCIII, V&H Bigshots, SpyKer airbox mod, Memphis shades windshield and lowers, "C" risers, Ultimate BigBoy seats, CC saddlebags, and chrome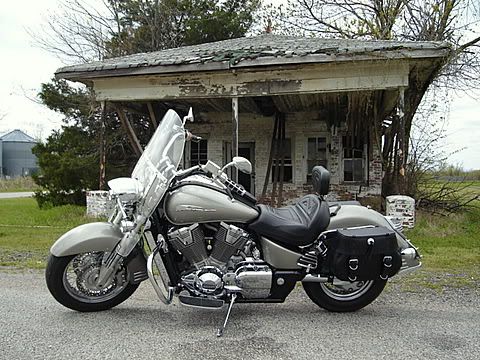 ---
03 1800R
http://www.biker-haven.com/
Senior Member
Join Date: May 2006
Location: Dallas, TX
Posts: 4,552
Re: PIcs of your bike
---
Ermm..lessee...I don't have dyno numbers, just not my thing. My signature line has most of the big stuff... I've added some spikes to various places, and I'm about to add a chromed front wheel....now I have to find a chromed REAR wheel....
---
Ex-X-Rider... Now on a Kawasaki Concours 1400 and a Ninja ZX-6R! Wheeeeeeeeeee!!!
Re: PIcs of your bike
---
I have an '05 1800F, V&H Big Shots, PC III, and Thunder Air Cleaner. Last dyno was 99.9 hp. Pics u requested:
---
'09 HD Street Glide
[SIGPIC][/SIGPIC]