Senior Member
Join Date: Nov 2003
Location: Algonquin, IL
Posts: 912
Can't wait to see the finished product. It looks great so far!
---
'04 Candy Red 1300C
Looking good. Will be following along to see the progress.
---
[SIGPIC]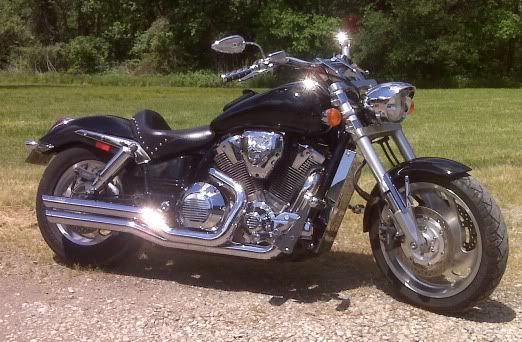 [/SIGPIC]
2003 VTX 1800C Member of the "Mid-South Board" #8
1800c in fast black, Darkside General Altimax 205/60-16 Mustang seat, Vance Hines, Stealth Fairing with 6x9 speakers Fosgate 300amp and infintiy PVR250 marine radio with remote, Lots of Come goodies,
I bobbed a Suzuki S40 Boulevard. last winter. I have it for sale on E-bey right now. It was a fun project and even more fun to ride. But I bought a Kawasaki Concours 14 last June and don't have time to ride the Suzuki like it needs tobe ridden.
---
Ride on, Ted
co-sponsor
Join Date: Jan 2004
Location: Charlotte NC
Posts: 4,082
.......
---
Well, the BlueCollarBobbers kit arrived. It required a little customization to make it work, not sure what's up with that as it's supposed to be a bolt on, but it's no biggie. For the money, this is top notch stuff here. They do a FANTASTIC job of providing top quality parts! They provide a bracket that goes all the way across, but the swingarm was hitting it under full compression, and it was in the way of my fender bracket. After studying it and sleeping on it, I just took the top brace off (I can't see why it's needed) and then cut the side brackets back some. I don't think I've lost a thing in the strength department. Had to add some fender washers and longer bolts under the springs, and there's a tapped aluminum bar stock that goes under the front mounting point that was hitting the shock, had to clearance that a bit. Otherwise, good to go. Doing bodywork on the tank and fender now.....
Senior Member
Join Date: Aug 2005
Location: Charlotte, NC
Posts: 536
Hey I would love to do a project like this. How is the project coming. Would it be possible to stop by the shop and check it out. I live in Charlotte.
working on mine
---
That is one great looking bike, got to have the spokes for that bobber look, hope to change my wheels some time.

Ship
---
HAVING FUN !!!
co-sponsor
Join Date: Jan 2004
Location: Charlotte NC
Posts: 4,082
....
---
parts in high build primer ready for sanding
Parts sanded and ready for sealer......
sealer sprayed.....
co-sponsor
Join Date: Jan 2004
Location: Charlotte NC
Posts: 4,082
......
---
I used the same gold that was used on the Ford Focus as a starting point.....
Then added a little F17 HOK gold flake over the top of it.....
That V-Star makes a great platform for the Bobber Look , the way the swingarm lines up with the lines of the frame , from its profile it has the look of a rigid , with the ride of a soft tail.
Very Nice !!
---
[SIGPIC][/SIGPIC]

Alcohol does not solve any problems , but then again , neither does milk.
Last cigarette smoked October 22nd 2011
Cannot wait to the finished bike, looks great so far.
---
2013 Victory Cross Country Tour