Member
Join Date: Dec 2009
Location: Fraser Valley, British Columbia
Posts: 81
Sat on a Wide Glide...Neat!
---
I went to see one of those new 2010 HD Wide Glides. This is the one with the incredible rake and flamed tank.

First impression: Pegs are really far forward and super comfy (I'm 5'9") with little short drag-stye bars. Typical HD fit and finish. Feels like the new Sabre from a sitting-on-it-not-moving point of view. Seat height is pretty low.

The seat seems comfortable, the pillion isn't much more than a nod, and the sissy bar is 3" tall. I'm a sucker for anything with flames so it's in.

Overall, a nice bike for a decent price. Canadian, it is about $4k more than a Sabre but the value is there. Another one for the fantasy garage.

Godzilla
---
Godzilla
I too like the looks of the Wide Glides. It's the only other HD bike I care for besides the touring models(other than the fugly Road Glide
). I've never sat on one, but I do love the way it looks.
---
'09 HD Street Glide
[SIGPIC][/SIGPIC]
Not sure how closely related, if at all, the Super Glide is. Saw an 09 today up close. Owner was obviously thrilled with it having bought it just a month ago. Very clean and a great looking machine.
---
2005 VTX1300S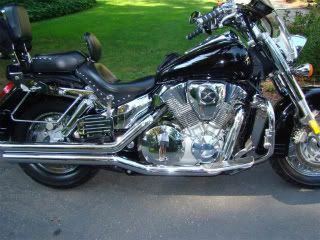 Member
Join Date: Dec 2009
Location: Fraser Valley, British Columbia
Posts: 81
Different bike I'm thinking.

Wide Glides have an incredible Fury-like rake and a gigantic front tire.
---
Godzilla