rode a deluxe this weekend and it was great
---
went on a long ride with 2 of my harley buds n one let me ride his deluxe and with the counterbalance it was nice. if i had the money id have an X and HIS bike
---
"Only two defining forces have ever offered to die for you, One was Jesus Christ, the other is the American Soldier"

07 1800F
REAR WHEEL NUMBERS: 99 hp 117 torque
Senior Member
Join Date: Aug 2009
Location: N.E.GA
Posts: 964
Can't say that I've ever seen one in J.D. green with yellow wheels!!!!!
---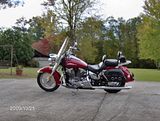 FREEDOM ISN'T FREE...SOMEONE HAD TO PAY FOR IT
If you can read this...thank a teacher.
If you can read this in English.....thank a veteran.
God Bless America !
Member
Join Date: Dec 2009
Location: Fraser Valley, British Columbia
Posts: 81
I love those bikes but the HD salesman said that the Road King, for the same price was twice the bike. Love both.
---
Godzilla
i agree. id just want the deluxe to bar hop
---
"Only two defining forces have ever offered to die for you, One was Jesus Christ, the other is the American Soldier"

07 1800F
REAR WHEEL NUMBERS: 99 hp 117 torque