Join Date: Dec 2003
Posts: 169
!800's not selling
---
Why are the VTX 1800's not selling?
Senior Member
Join Date: Nov 2003
Location: Aurora, Ohio
Posts: 2,633
Who said that? Where did you get your information?
---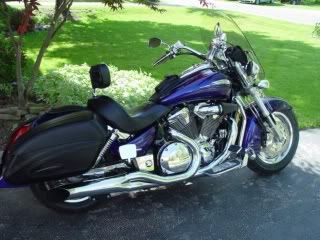 I'm glad they made a lot of them. I just got a brand new 2003 VTX Retro for a sweeeeeet price. I love my x. ***** loads of power and runs like a raped ape.
---
Join Date: Aug 2004
Posts: 127
when i bought mine 2 weeks ago they sold 8 vtx 1800's while i was waiting for mine
Senior Member
Join Date: Nov 2003
Location: Aurora, Ohio
Posts: 2,633
I must say that the special pricing on all the bikes plays a big roll on sales. The 1300's are selling like crazy due to the value for the dollar and great bike it is. The 1800's are not collecting dust either, with the cash-back and price you'd be lucky to find a 03 sitting anywhere, and for a bit more than the 1300 you can move right onto one.

So your answer is both are selling fast but right now they are building the snot out of the 1300's in Ohio. Saw that in Marysville a couple weeks back.

Don
---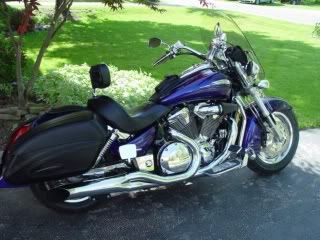 They are selling. The place I got mine last month sold 50 in one day and it is not a large shop. The club I ride with also has more 1800s than any other bike and not a single 1300. So yea they are selling, I'm just glad they made a bunch of them. Mike
---
Join Date: Aug 2004
Posts: 127
also the 1800 is a big a$$ bike..its not for everyone. if thats the only bike selling then honda would discontinue the rest, but i doulbt the 1800 is a bike for the average rider. im 6'1 230 and respect the weight and size of this machine. There are still alot of riders that think a 750 is a big bike and fear a bike the size of the 1800......
Join Date: Jul 2004
Posts: 176
I agree with OrlandoDon. I never would have considered the X because of the size (engine & weight) and the price tag. Since the price tag came down to my reach, I decided to go for it. It is an awesome ride, especially coming from an 800cc Volusia. I am very happy with my decision to purchase the X.
Senior Member
Join Date: Nov 2003
Location: VA. Stafford
Posts: 329
Bought my 1800C last October. Hadn't riddin for over 20 years, when I was riding I had a Triumph 650 and then a Honda GL1000. Always thought I wanted a Harley, but just way, way to expensive. I have never been on a Harley before a few months ago when a buddy of mine bought a new Fat Boy. I got use to the size my bike real quick and never gave its size a second thought, until one day my buddy wanted to swap bikes for a short ride. "Holly Mini Bikes " – Did that big Harley feel tiny. I really don't think I would ever want to own Harley now, because the VTX has just plain spoiled me.