About 6 months ago I decided that I wanted a motorcycle. I had never ridden before in my life. I started researching the internet about bikes and learning to ride (discovered this site along the way). Most all the articles you come across state that you should start out in the 600-750cc range. All my friends said I would regret that in about 3 days and be losing money trading up. I was unsure but decided that I didn't want to go through 3 bikes before I settled into something. I found a local 1300 for sale and signed up for the riders course. I bought the bike 2 days before the class and sat on it in the driveway. I made the vroom-vroom sounds and tried to imagine taking it out but promised myself to wait until after the class. I admit that while sitting on it I was feeling like maybe I should have gone with a smaller bike. A little nervous about that first roll down the street. I attended the class and put a lot of effort into learning their techniques and actually found it only mildly challenging but very fun. That second day after I got my certificate I ran straight home. Now...not yet legal from a license stand point all I could think about was getting that bad-assed bike I had parked in my driveway cranked up and rolling. I hopped on it and started her up while I started gathering my nerves. I was still working up the courage when she died on me. Wondering what happened I started looking it over and discovered that I never opened the petcock! Opened it up and cranked her back up again. I took a big breath and let out the clutch. After the turn out of my driveway I think it took me at the most a couple hundred feet to realize that I made the right decision when I bought this bike. I was in love all over again! I rode every single day for two weeks after that getting as much time as I could in before heading back to work. Six months later I still feel like a beginner but have never once felt like the bike was too big (or too little at 6'1" 200#) for me. I can only speak for myself but I would ignore what the experts say is the best beginner bike. At least for cruisers anyway. Maybe its a different story for sportbikes but I can't say as I have no experience there. I would say that the rider course is a must and I wouldn't attempt riding even the smaller bikes without it. Good luck and ride safe.
---
[SIGPIC][/SIGPIC]
07 1300 C-tro Titanium...Slapjack mod w/200mm Rear, BUBS Jugg Huggers, MS Batwing.
I had not ridden in 30 years also.

Bought a Honda 1100 Saber. I kept it several years and upgraded to a 1800R.

That was a good progression. Don't think you have to buy what you are going to live with forever.

Its not a lifetime decision. Its less than $ 10,000

The main reason moving up was because the gas tank capacity and range was too short on the 1100.

GT
---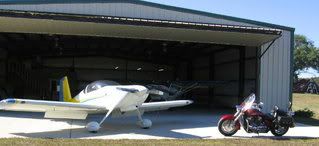 Really???
---
Quote:
The main reason moving up was because the gas tank capacity and range was too short on the 1100.

GT
And here I thought the "1000" was the distance traveled per tank full???
I guess if I go from my 1300 to 1800, I won't be getting an extra 500 miles per tank full?
My 1300 will be with us for the rest of my riding life...unless it dies before us
---
"Better to remain silent and be thought a fool than to speak out and remove all doubt."
"America will never be destroyed from the outside. If we falter and lose our freedoms, it will be because we destroyed ourselves."
Abe Lincoln
Started on a 1300R and loved it, rode to work most days with the wife (2 up). After 24,000 miles and 2 years, I just had to get an 1800N. The reason given, at least to the wife is need more power when on interstate with her on the bike
. She said yes so now I have an 1800N,
but do miss the 1300 around town and am glad I started with the 1300 for handling reasons. Just My To Cents
---
Don't argue with an idiot; people watching may not be able to tell the difference.


07 VTX 1300R gone 2010
08 VTX 1800N
I bought the 1300 hopeing it would not be too small
---
It works fine and keeps up with the big bikes without any strain at all.

In my opinion, the modulating headlight can be missunderstud as a come on out signal since the flashing lights from a car/truck driver is often used for that very thing. I would stay away from the modulator and keep your eye on cross traffic.
---
The Villages, Florida
Quote:
I grew up riding a Honda 150 and 250 on the trails in upper Michigan. It has now been about 20 years since I last sat on a bike but I am looking to get a street bike.

In speaking with a few friends of mine who have bikes I have been told to get nothing less than an 1100. However, two of my friends whom have a V-Star 1100 said that after a year they learned their error as they were ready to upgrade to a minimum of a 1300.

So, my question... For someone who has not ridden in quite some time, would I have any issues starting on a 1300 or 1800? I do not want to end up in the same position they were after a year, but am not certain if the bike could be "too much" for someone who has not ridden anything larger than a 250. I am 6'1", 250 lbs so I do not want a "little" bike. I plan to take a motorcycle safety course to get re-acquainted with riding a bike.

I have been looking at most makes of bike and am leaning strongly to the VTX 1800 or 1300. I like the dual front brakes and extra power on the 1800, but could grab a 1300 if the price was right.

Should I worry about the size of the bike? Or, just find the one I like and go with it?
You can buy a 750 Shadow and you will learn how to ride it, you can buy a 1100 Shadow and you will learn how to ride it, you can buy a VTX 1300 and you will learn how to ride it, you can buy a VTX 1800 and you will learn how to ride it. So buy what you like the most (looks, features, handling, power, sound, price). Test drive is always good, but usually not long enuogh to make a decesion based (just) on that especially, if
"it has now been about 20 years since last sat on a bike".
Ervin
---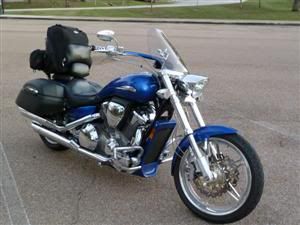 VTX 1800/280
You can say anything stupid. It's the internet. No real consequences for YOU.
I am 5'6" tall but a good 220#
[email protected]
I had NEVER ridden a bike.I did take the course which meant I could ride a 250 in a parking lot but I learned a lot.moot point as you did say you were going to take the course as well.
anyways when I was sitting on bike in the showrooms the 1300 did "feel" better to me and if it had had fuel injection,I would have gotten that.
To my friends objections I got the 1800S and yup it was heavy and yes it had enough power to get a rookie in trouble.but I knew that this ride could kill me if I did not ride it with respect.
took about a year before I was comfortable on it.and then the friends said that I did just fine. I don't regret the choice for a moment..
bottom line is if you are OK with what the 1300 has to offer go for that. if you are the kind that will always want a little more, go for the 1800. don't let the size detour you.
....
I often wonder what it would be like to ride a smaller bike though
---
03 1800S beetle bags,memphis fats shield ,"C" risers, debadged original seat cut to get me lower,clear lense in back w/led bulb. stebel horn.fattys wflame pegs.flame boards and grips. madcorider camlock removed the heel part of the shifter, custom singe rack
Keith Ô¿Ô
I'm another who was away from riding for many years before returning. I was away for 23 years and my last bike was a Honda Shadow 750. I started looking for a bike but had already decided that I wanted a VTX 1800 as my brother had gotten one when they first came out. Came to find out a short time later my brother wanted to sell his so I called him and he said that he would give me a hell of a deal if I wanted it, so I bought it.he lives about 150 miles from me, so we drove down and I rode it home. By the time I got home I had a pretty good feel for it but knew it was a beast and as said above, I needed to respect that fact. 3 years later I went hunting for an 1800 N found that within about a week, and sold the 1800 C a couple weeks later. Do I regret going to the 1800 to start with, HELL NO! Glad I did. By the way, I was looking at the VTX to begin with because it was a bigger bike, I'm 6' 2" 255 lbs.
---
[SIGPIC][/SIGPIC]04 1800N, Double Darkside... lots of extras.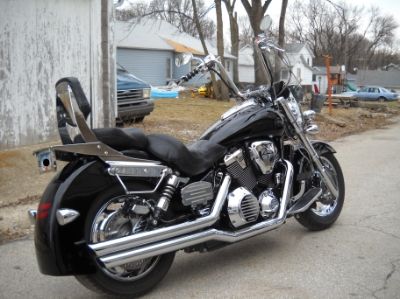 had 750 shadow after 6 months felt needed something bigger if i needed to go on long trips.got 1300 which is great for me.all the power i need and in the city can get around easy.sit on any bike you like and see how comfortable you feel.as soon as i sat on my 1300 that was it fit like a glove,i just felt better than the 1800.a freind has an 1800 more power and torque,but the 1300 gets me there just fine with better milage.take an MSF course what ever you do.
---
2008 1300c pearl yellow,mustang seat,CP punisher bars,progressive springs,hicks CTR.bike now totaled.miss that bike
I hadn't ridden for 20+ years when I bought my 1800. I looked at the 1300, as well as Yamaha's, Kawa's, and Suzuki. Technology had changed a bit since my last bike, a 1978 Yamaha 750. But I liked the fuel injection, (starts easier in cold temps), and the brakes. I'm 6' about 270 lbs, but most bikes will move me as fast as I usually want to go. But the 1800 cc, aka 1.8 liter aka 109 ci was very appealing to me. First few slow turns were very exciting, but I made it. No regrets at all with the 1800. The stock seat needed softening, but Mean City took care of that. If I had enough cash I would buy more winter clothing and be riding all winter too.