Riding with a cigarette?
---
Just wanted to put something out there.
Can anyone who smokes explain to me what the point is of lighting up a cigarette right after saddling up? I see it all the time we're by certain bikers light up and then go for a ride.
don't get me wrong, I do enjoy the occasional cigarette but how do you ride 40 miles an hour with no windscreen with a cigarette in your mouth and all that wind in your face? Is it just the cool factor or are you actually enjoying your cigarette? I'm not trying to be sarcastic I'm just trying to understand the logic behind it 🤔🤔
Cigarette, logic???
---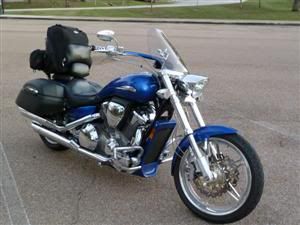 VTX 1800/280
You can say anything stupid. It's the internet. No real consequences for YOU.
---
2006 Shadow Aero 750 (sold Oct 2018 )
2008 VTX1300T
Senior Member
Join Date: Jul 2017
Location: NE Kentucky, United States
Posts: 188
I long ago stopped worrying about other peoples proclivities and habits that made them happy.

I found that pondering such things distracted from my happiness.

Live and let live!
---
2004 VTX1300C
I was never a true smoker, but I used to smoke a good cigar occasionally and would smoke one while riding every now and then. Behind a windshield.
---
2003 VTX 1800R
Senior Member
Join Date: May 2017
Posts: 602
Senior Member
Join Date: Jun 2004
Location: Central Wisconsin
Posts: 1,383
Same reason that people smoke after sex except that is at the end of the pleasure instead of the beginning pleasure of a bike ride.
I am an ex smoker but can relate.
.
---
2002 1800C ILLUSION BLUE Bought new 1st one sold in WI. - Cobra angle slash cuts - Cobra FI2000 - Memphis Fats 21" - Hondaline 24L bags with Easy Brackets - Corbin Gunfighter and a lot more.....


. ====>> KEEP IT VERTICAL <<====
Senior Member
Join Date: Jun 2014
Location: Jackson, MS
Posts: 2,806
May be a long time until the next one..
It's all fun and games until the cherry blows off the butt and starts a wild fire. Yup ... it happens all the time.
---

'12 Road Glide Ultra, Kuryakyn Alley Cat intake, Jackpot Super Duals header, Jackpot HiRoller mufflers, PV Tuner, Daymaker LEDs