Member
Join Date: Jun 2019
Posts: 58
cost estimate for this paint job.
---
I would like to try my hand at painting and was wondering if anyone here has done something like this and if so what is the material and time cost?
thnx for any help.
Senior Member
Join Date: Jul 2008
Location: Santa Barbara California where RED is the FASTEST color!
Posts: 5,873
There are a ton of variables in regard to cost as your post is stated—it is far too vague. To estimate cost one would need to know at least what you are painting. Even if one assumes you have a VTX 1800 you want to re-paint, it would help to know if the base color of the tins is already black. The VTX engines can be blacked out with a lot of labor and relatively cheap cost. Here is a link to see just what's involved in doing the engine:
https://www.vtxoa.com/forums/7-vtx-1...ell-i-did.html
.
In any event, I'll toss out what I know about the custom painting I've done.
If you are totally inexperienced with painting, you probably are vastly underestimating how many hours it takes to do it right. Much of the labor involved is prepping the surface to be painted. Simply painting a stock silver colored side cover to a satin black would involve sanding the surface smooth & flat, painting at least a coat of primer, (allow to dry) a coat of satin black, (allow to dry) wet sand, and then at least another coat of black (allow to dry and repeat wet sand and repaint if any defects are found) and I'm making it simpler than it would likely require for a show room look. The paint and materials cost are not typically what keeps people from custom painting their rides, it's all the hours of prep and labor involved in multiple coats of paint that are the real deciding factor.
A vinyl seat can be repainted with very good results (I've done one) such that if you wanted a black seat painted red it could be done cheaply (takes about 3 coats to do it right) with a quality vinyl paint. Spray painting chrome parts can be done, but it involves a lot of sanding. I spray painted my plasti-chrome engine covers on my VStar 1100 with high temp paint and it has held up nicely, but was a lot of labor sanding the chrome down evenly. Chrome is a tough metal so it's a LOT of work. You'll need a metal etching primer coat 1st, then wet sand, then another coat of paint, wet sand, repeat.
Some guys have had good luck painting over chrome (blacking out a bike) that isn't high temp engine parts with a rubber based paint called
Plasti Dip
. I've painted a few chrome parts and had good luck with the durability. The paint comes in various colors too. The easiest way to get the blacked out exhaust look is to buy black pipes, otherwise you are again dealing with the labor of sanding the chrome to paint it, or pay to have it sand blasted and ceramic coated.
If you're serious about getting into DIY painting check out some of the many How to paint YouTube videos available to see what's involved.
Good luck.
---
"A man's got to know his limitations" Clint Eastwood as Dirty Harry
_______________________________________________
There are a lot of confusions about painting. What and how to do and what to use. Even many of the professionals make a lot of mistakes.
If you want it flawless, first, you need to educate yourself (it requires maybe more time than to do the job), then practice. You also need the right equipment, enviroment and materials. Use what really required to do the job, but nothing else.
Without these it still can be done with very good results, but the outcome will depend on your luck.
The time and cost, as HOP said, will vary on what to do exactly, condition of the surface to be painted, experience level, equipment, enviroment, materials...
BTW, if you want flat black, dust in the air may cause problems. You can't sand and buff it out of the surface,, if it's a matte color.
---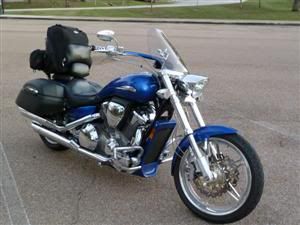 VTX 1800/280
You can say anything stupid. It's the internet. No real consequences for YOU.
---
Last edited by ervin260; 09-19-2019 at

02:54 AM

.
$25 all the way up to thousands. You can go to Ace and buy rattle cans of Rustoleum and do it for $25. You want a great looking paintjob, go see my friend that painted my VTX Tim Alcalde in Wooddale, IL.
www.alcaldecustoms.com
---
Last edited by Chicago-Spike; 09-19-2019 at

08:08 AM

.
Whatever the cost, it's not going to be worth it. Money down the toilet.

Bike in your photo took a real long time to build IIRC, and was in pieces. I want to say it took the guy over a year. Time better spent elsewhere.
Senior Member
Join Date: Jun 2004
Location: Denver and Chicago
Posts: 8,216
That was Cliffs bike.

He had an accident in 2002-2003 and spent a year and the insurance proceeds rebuilding it. IIRC he had about 18k into the bike if not more.

If you do a search for "Chromeless Crusier" it will probably pop up.
---
Do not go gentle into that good night. Rage, rage against the dying of the light - Dylan Thomas
All that is necessary for the triumph of evil is that good men do nothing - Edmund Burke
If you can, help others; if you cannot do that, at least do not harm them. - Dalai Lama