Sport Touring bike recommendation
---
Ok, I know this may not be VTX related but looking for some advice on getting a good sport touring Bike. For the record, My X is & always will be a keeper & she ain't going anywhere so this will be a second bike.
As much as the X is a great bike in so many aspects it's still a metric cruiser & I can't hit the corners as hard as some of the other guys I ride with who have sport touring machines. A lot of riding I do is some of the more technical roads here in Ontario such as the 518 which is known as Ontario's "Tail Of The Dragon"
I'm looking at getting a ZX-14 Concourse (shaft drive, probably a 200
I've read great reviews on it & want to know if any of you have a sport touring machine? I'm trying to stay within my budget which is approx. $10K.
I'm open to any suggestions so please chime in!
I was looking at the Concourse as well !
---
Red 2004 1800N
Take a look at the Yamaha FJR1300, it is 50 pounds lighter. Concours seems so large up front, like a Gold Wing.
Hard to tell...
The sport touring thing didn't work for me. Years ago I bought a second bike, a sport tourer (FJR1300) addition to my VTX 1800. I wanted something nice, with hard bags and with rain and wind protection for long trips. Rode it a few hundred miles and parked it and sold it later. That time my VTX was taken apart for modifications, so I didn't ride for a coupe months (despite of still having the FJR). It just wasn't fun after the VTX. Later I bought a second VTX 1800 and made a touring bike of it. To me riding is not about the comfort, how smooth the ride is of how fast I can curve the twisties. It's about feelig the vibration, the wind, the sun, the smell of flowers and trees,watching the scenery, having fun. I always say, if you don't like riding, go with car or on a sport bike. You can get to your destination quickly and jump off the bike and do whatever you like to do. If you like riding, you don't need to go fast, because it's about being on the road not about getting to your destination quickly.
---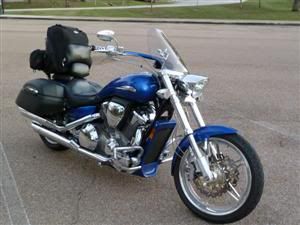 VTX 1800/280
You can say anything stupid. It's the internet. No real consequences for YOU.
Senior Member
Join Date: Jun 2014
Location: Jackson, MS
Posts: 2,874
Ive been looking at the Versys 1000 as a 2nd bike..
Senior Member
Join Date: Jul 2017
Location: NE Kentucky, United States
Posts: 202
Have you considered the Honda ST1300?
---
2004 VTX1300C
Quote:
Have you considered the Honda ST1300?
If I was younger ..that would be my choice....
---
Phil...(72)"Nobody told me I die at the end"
2006 (bought new)...1300R Candy Black Cherry,DARKSIDE,foots mod..
..
I have a bmw 1200 gs for sale. Fast, very smooth, bells and whistles, one bell is heated grips, one whistle is tire pressure sensor. Selling fir 5k, 52k miles.
---
Maurice
Although you can't argue with German engineering, BMWs make fantastic machines! Only problem is they are pretty ugly in my opinion! One of my buddies rides one and it's a big eyesore.