Quote:
Stihl dealers sell a stihl Moto mix. It's 93 octane with 50:1 synthetic oil. It comes in several sizes and the gallon costs over $31 and they sell a lot of it, even here where non ethanol is readily available at many places from 87 to 93, reasonable priced. The Moto mix is much better than just non ethanol, it's 99% pure gas, the best pump gas in the United States is 55% good stuff and 45% crap that will burn and produce power but will turn into gum and varnish if left to sit long enough. It has a shelf life of 10 years until you open the can , it's packaged with nitrogen,,no oxygen.Moto mix will evaporate,except for the oil mixed with it, and it doesn't contain the crap that causes gum and varnish.$31 is a lot but how much does a new carb cost? How many carbs could you "winterize" with one gallon? If I had a generator that was critical for it to run maybe once every two years,I would keep it full of something that it is completely impossible to cause gum and varnish. Run anything you want but when I store my stuff, chainsaw,weed eater, generator,outboard motor,snow blower,lawn mower, it's worth it to me to put stuff in it that won't ever cause problems. I ride my bike almost every day of the year so it's always cheap stuff for it.
So, how is it better than the previously mentioned $12 ethanol free gas at Home Depot or Lowe's? What is that 45% crap in the fuel? Come on...
---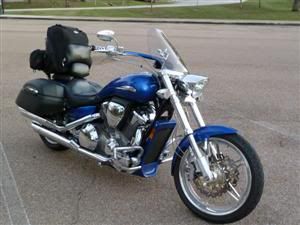 VTX 1800/280
You can say anything stupid. It's the internet. No real consequences for YOU.
Not saying it's better.Not sure about the other gas but I have had formal training on stihl stuff. The 45% other stuff is aromatics and olefins, seriously. Gas in the US is cheaper than most other countries,partly because they don't refine that stuff out.
Quote:
What I find strange is in north Texas I have not found non ethanol. Marinas should have it but they would be very inconvenient. However, when I cross into Oklahoma I have no problem finding it all the way to Kansas. I just filled up today while in Oklahoma. I think it was $2.50.

Ed, glad to see you still view the board once in awhile. My 1300 is still running strong with 140,000 miles on it. I still have the aux fuel tank mounted like you had it on your X. I don't need it as often now since a lot of my LD rides are on my Royal Star Venture. I bought a used 5 gallon for it. Only wanted 3 gallons but the price was right.

I finally made it up the Dalton. Very hot for up there. My X would have made it but it would have taken a beating plus I would have to have cleaned it. I rented a BMW750GS with no windshield so plenty of mud on my visor. I rode it like I stole it, returned it, and they cleaned it.

Take care.
Hey Jerry, Glad to hear you made the Dalton. Ya know it was exceptionally hot when I did it too, especially the Dempster, Inuvik was like 90*. Yeah the X will make it when it is dry, but if it is really wet I wouldn't want to try. That hard pack road full of calcium to keep the dust down gets like wet slime when wet. I had a little wetness coming back down and it was super slippery. "I" and the bike literally got pressure washed in Fairbanks. Hey keep puttin the miles on the X.
---
05 1300R
-sadly sold
04 BMW K1200LT
- Luxury Tourer, smooth efficient quiet power,sporty mile eater
05 BMW F650GS
- rugged and elegant adventure tourer, does it all well, high speedcruising to rough dirt roads
IBA:
SS1000,SS2000, SS3000, BBG1500, 50CC, UCC, LGL1000, 4 Corners
Quote:
Honestly, if you have a fuel-injected engine, it's a closed loop fuel system, and 10% ethanol won't cause any problems for at least 6mos all by itself. If you wanna run StaBil or StarTron for peace of mind, go for it. Now E85 will likely cause injector crusties after sitting for more than a month. BUT, you can tune to incredible HP gains with it. Think of it as race fuel, not really good on the street.
Carbs however, vent to the outside, and that ethanol will evaporate after a month, leaving honey-like goo in the bowls and on the needles. Non-ethanol gas won't turn to varnish for many, many years in most cases.

Since non-ethanol gas is not readily available (most boat docks/marinas have it)without spending more in gas to go GET it, and charge MORE for it, it's just as easy to get a fuel treatment. You can get the canned non-ethanol gas from Home Depot or Lowes, but that works out to be $12 a gallon. -WHAAAAT???!!

What's your peace of mind worth? No one can say, but you.
Sorry, but I would not leave, depending on where you live and the climate, E10 or E15 gasoline for 6 months. It's not just about the fuel rail or the injectors. Remember your tank is vented as well, and if in a more humid area, cold to warm causes the tank to exhale, warm to cold, it will inhale, moisture along with air. Ethanol and moisture = bad! Temp variations also speed the separation of ethanol and gasoline, making the situation worse. Fuel stabilizer keeps the ethanol in suspension, keeping it from attracting and bonding to moisture. A month or two, you're likely okay, but why take the chance?
---

'12 Road Glide Ultra, Kuryakyn Alley Cat intake, Jackpot Super Duals header, Jackpot HiRoller mufflers, PV Tuner, Daymaker LEDs

Quote:
Here in Canada, the only commercial ethanol-free fuel available is at Shell. Their 91 octane v-power is the one. I know most folks run 87 octane and that's cool. But for me, I always run 91 octane.
PetroCan as well with their 94. Maybe not best for the VTX, but the Harley likes it and so does the VFR.
---

'12 Road Glide Ultra, Kuryakyn Alley Cat intake, Jackpot Super Duals header, Jackpot HiRoller mufflers, PV Tuner, Daymaker LEDs

I always use 87 octane at 10% alcohol in my VTXs. When they are stored either over the summer or over the winter, I add Stabil to the fuel.

I buy 90 octane, alcohol free gas for my small gas engines ($2.999 a gallon). When I store the four stroke engines for the summer or winter I add Stabil. The biggest problem I've had with gas that is mixed with alcohol is deterioration of fuel lines.
---