Fork seal replacement
---
I have an 05 1800 r with a leaky right fork seal. I have a manual an have read up on the tech needed to do the replacement. I was wondering who had done this job and how how hard it was and how much time it had taken. Any advice would be appreciated.
Too many variables to say. With the right tools and experience, it can take from 3-4 hours. Without, it can take all day. May want to replace the bushings and sliders while you're there. You are replacing seals on both tubes, aren't you?
---
[SIGPIC][/SIGPIC] '03 1800R
Yes, Makes sense to do both at the same time, have the front end apart anyway right. Just a little worried about getting it right the first time. I've heard stories about doing this wrong. Maybe better to take it to the dealer. Just looking for any words of wisdom, everyone here has always been pretty square shooters about how difficult some things can be. I'm a pretty capable wrench but everyone has their limitations. Thanks.
I've done a bunch and they aren't bad. Take your time and follow the book. If you need a loaner socket for the left side I have one available for a deposit. I would alot 4-5 hours for the first time you do this, I can do them now in about 3. The biggest mistake people make is putting the seals in upside down. There is a slip of paper in the package that says to install the seal with the writing side up. Well, the problem is you have inverted forks. The slip should say to install the seal with the writing to the outside. You'll also need to buy or make seal and bushing drivers. I made mine from PVC pipe bushings from Home Depot. Also make sure to clean everything really well and I use some wet and dry sandpaper with oil to removing any minor scratches in the tubes. Also make sure you use a good oil, I prefer and use Amsoil products exclusively in my shop. Showa forks call for light #5. If you need any more than this send me a pm with your phone # and I'll give you a call.

Jon
---
Why is common sense not so common
Why doesn't P.E.T.A. ever attack a biker
I just helped a friend do this on his 1800c.
He bought a tool (big socket from Honda) and he made another tool from some PVC pipe. (check Bassasschoppers.com)
He also replaced the bushing and sliders as mention earlier. (good idea)
It took him 6 hrs. But he is real pokey. I think 4 hours would be about right for someone that has not done it before.
Here is the link to Bares for spring replacement. Partly the same procedure.
http://www.bareasschoppers.com/forksprings
Thanks guys you're the best. Great advice. Just the encouragement I was looking for. Wish me luck.
Quote:
You've got some get wrenches that will be willing to help in your area. Just ask on the WI board
Biggest amount of time is the cleaning...well it was for me with almost 48k miles on them. I replaced the seals (kit), sliders, bushings, and the one side nylon bushing/slider just to be safe.
on the seals....just watch how your old ones come out and duplicate. Don't forget to tape your tube ends when putting the new seals on...this just protects them from getting cut while sliding them past the bushing groves.
Also, I used "coal-oil" for cleaning -rags, wooden dowel rods and wires for cleaning them out good. Did I mention rags?
Did it about 4 to 500 miles ago and all is well.
I did mine over a weekend,,,but I also did the yearly ground fix, and 8k valve adj all at the same time -got lucky on the valves everything was within spec.
If you can get the fork tool -the seal tool can be made with a hacksaw and some grinding on 2" pvc.
Good luck!
G
---
Broke but Stress-Free
Member #3477. 2002 vtx1800C, Vance&Hynes,PIII,K&N Filter, modified airbox, Audiovox cruise, Kury offset highway pegs, and thanks to RealBob a Lindby bar to prop my feet! And member of the Darkside on 6/12/06 @ 26.4K
Changing fork seals on a 1800
Go to
http://bareasschoppers.com/forksprings/
and follow the instructions on tear down once you get to that point with a small screw driver pry the wiper seal down from the fork and un-clip the clip, then remove the fork from the trees (you should have already removed the front wheel and fender). Empty the oil from the fork and then slap the fork tube from the slider you will know when it comes apart
Then your going to look at how the seal is installed remember look at it twice take a picture if you have to. Then remove the upper bearing slider and all the rest of parts and seals.
Clean the fork leg good tape the sharp points off like in the picture and apply a thin coat of new oil.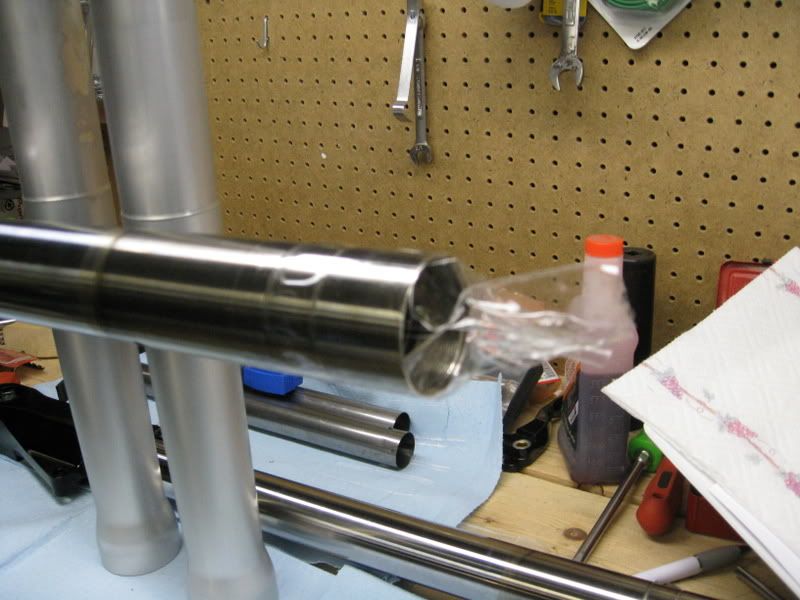 Then install the new components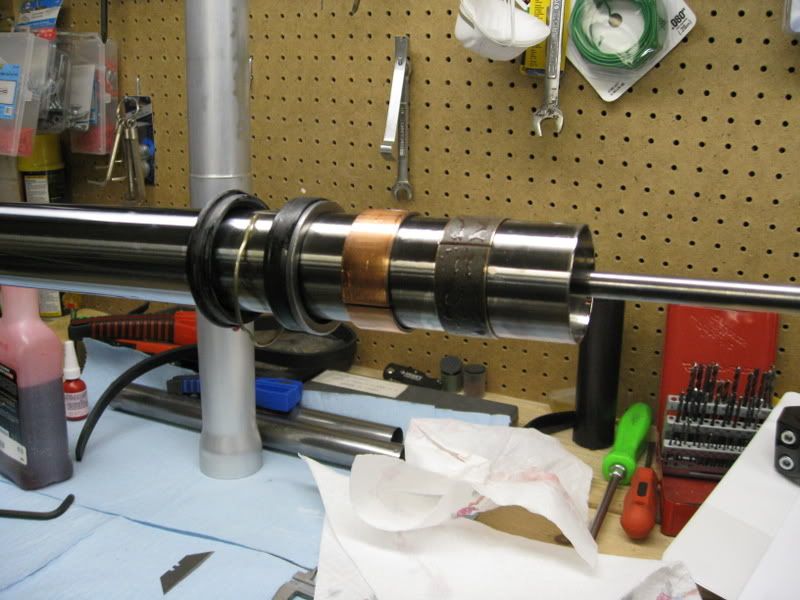 Make sure to install the seal the same way your old one came out. (note the mfg instructions say to put wording up,well they use these seals on regular forks as well as inverted ones they should just have said wording out)
Then put your fork tube back on,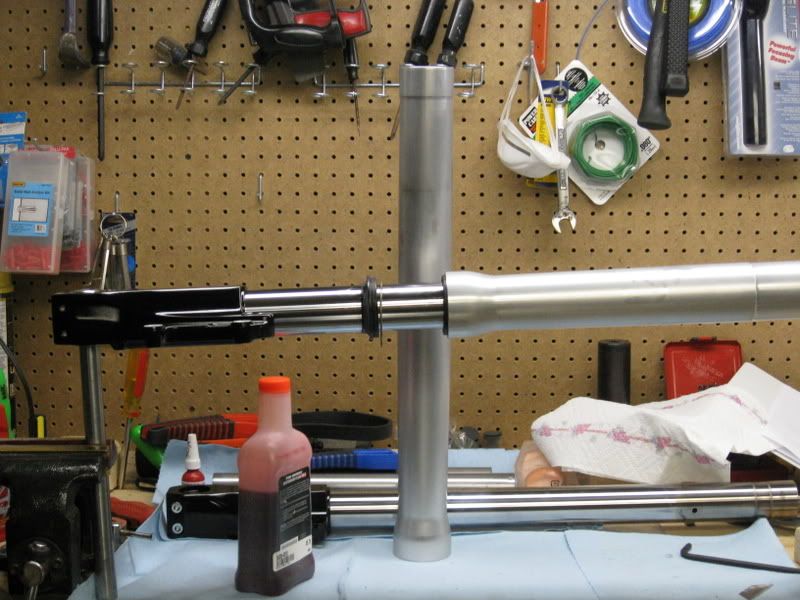 Then drive the seal in. I cut a 2" PVC coupler in half and it was about perfect.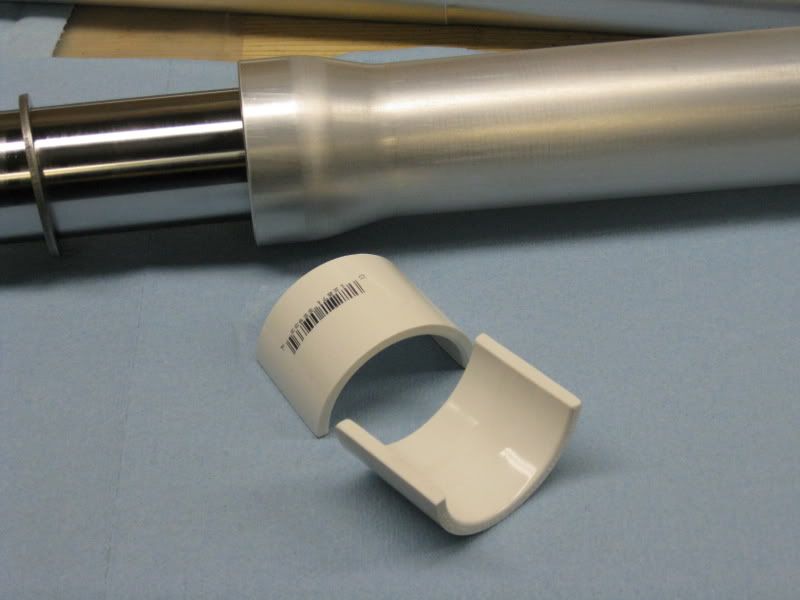 Easy way without slamming your fork foot down on it is to invert the fork and just use firm pressure on the seal driver and it will slide in home. Make sure the clip is seated if not you will have to push more. then just push the dust seal down.
Then fill the fork with oil (you should really read the manual on these instructions)
Then follow Bares instructions to button it up
---
2012 Victory Cross country
[SIGPIC]https://www.vtxoa.com/forums/attachment.php?attachmentid=75391&d=1342403272[/SIGPIC]