Junior Member
Join Date: May 2012
Location: Grand Blanc, Mi.
Posts: 3
What is the best rear tire for a vtx1800
---
I am in need of a new rear tire and I currently have a Dunlop Elite 3, I just don't like the price tag of it, and it seems that every two to three seasons ya gotta replace it. I found a Dunlop 251, and a Bridgestone Exedra Max that looks really sharp any ideas.
I just went with the Bridgestone and it looks and rides great and also a good price tag. Good luck
Just mounted a rear Avon Cobra 180/55/18. It rides smooth & handles great.
---
2006 VTX1800F
Senior Member
Join Date: Feb 2011
Location: Four Oaks N.C.
Posts: 369
Quote:
i am in need of a new rear tire and i currently have a dunlop elite 3, i just don't like the price tag of it, and it seems that every two to three seasons ya gotta replace it. I found a dunlop 251, and a bridgestone exedra max that looks really sharp any ideas.
what model do you have depends on whitch manufacture of tire if its and"f"model gowith metezlers.
If you are getting 3 seasons out of a tire that seems pretty good to me. I can stretch it to two seasons sometimes, but a rear tire a year is about average for me. I have the Metzler now. While it does grip well, it is dissapearing fast. If you want tread life it may not be for you. If the E-3 worked for you and you got 3 years out of it why not get it again? Don't try to save a few bucks, it's not worth it in the long run. I figure my life is riding on that one tire. I go cheap on a lot of things I buy, my motorcycle tire is NOT one of them.
I agree, if you are getting 2 or 3 seasons out of a rear tire, you're doing good. Maybe check out Commander 2 tires, new tires that are suppose to wear longer and the prices are not bad. I have heard nothing else about them nor have I heard anyone else say they have tried them.
---
[SIGPIC][/SIGPIC]04 1800N, Double Darkside... lots of extras.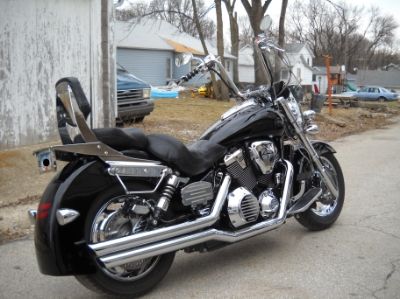 Welcome to the board!
Bookmark or save to your favorites folder, these websites,
https://www.vtxoa.com/forums/forumdisplay.php?f=77
This is the NEW VTXOA Garage, a sister site to this message board and contains all your How-to/Tips/Tricks/Why's and links to other helpful sites for your new VTX.
http://tech.bareasschoppers.com/
A fellow VTX Riders site that has many write-ups on "How-To" do work on the VTX. Also, for you 1300 guys
http://vtx1300tips.com/VTX1300TIPS.htm
another fellow VTX Riders site.
There is also a helpful Search icon in the users Toolbar just under the VTXOwners Association banner
Click the "Search" drop down and select "Advanced Search"
Now, enter your keywords and select a single forum to search in
Select 1, and only 1 "Forum" to search in at a time, or at all.
For example, "Best airbox" I would only search in the "1800 Tech Board"
That's the basic way, you can limit further by using some of the other "Drop-Down" menu's like if you know the thread you are looking for is only a week or so old, etc....
The purpose of the "Search" is to offer a member the opportunity to research his/her question better. There is so much information from past threads that you may never see because that member is no longer here, or doesn't see your new post, or just won't respond to the same question. So use it to your advantage and enjoy the board! View this funny and informative film about posting and searching…
How To Use This Forum, Click Here
Take a few minutes to familiarize yourself with the forum. At the top of every board there are threads that are tagged as "Sticky" These threads are "Sticky" because they contain very important/valuable information about the VTX and everyone should read them.
The thread at the top of the 1800 tech board called, "Air, Fuel, Motors..." will answer most of the performance questions...
https://www.vtxoa.com/forums/showthread.php?t=21749
Also, update your Profile to include where you live and what type X you have to your Signature line. I.E. 1300/1800/C/F/N/R/S/T
Senior Member
Join Date: Mar 2008
Location: petersburg indiana
Posts: 1,239
I know this may open a can of worms, but have you considered darksiding? If you are getting three seasons from a motorcycle tire, you should get about ten to fifteen seasons from a darkside tire.
Their average life span is 5 times better at least.
---
Honda factory trained technician, since 1996.
Riding a 2005 VTX 1800 N SPEC2.
Member; Darkside, Exhaust; Sydewynders Custom
1300 final, Honda Lowers with Memphis shields windscreen, Kury Cruise Pegs