I have finally been able to isolate the location of this very small yet annoying oil youleak I've been having every time I park the bike and come back I have been noticing a very small drop on the left side. I took a video showing the location and I am wondering if anyone can chime in as to what can be causing this and how it can be fixed? I have to upload it on to YouTube because I'm unable to upload videos here.I know it could be so many different scenarios however based on the video it looks like it's some sort of seal although I can't be 100% definitive however if someone can isolate this I would greatly appreciate it!
https://youtu.be/Y7snLNgXwek
---
Last edited by Mrjo1340; 07-31-2019 at

04:47 PM

.
I cant really help other than to say excellent camera work...if gurus cant figure it out...certainly not your fault....good luck
---
Phil...(72)"Nobody told me I die at the end"
2006 (bought new)...1300R Candy Black Cherry,darkside,foots mod..
..
what's confusing me is it looks like the front of the drive shaft cover but the fluid is red which leads me to believe it's my engine oil because I use motul 7100.
I check my oil level almost every day and there's been no variations in level.I'm just really concerned I'm going to have some sort of catastrophic break down eventually.
Senior Member
Join Date: Dec 2015
Location: MISSISSIPPI
Posts: 132
---
2007 1300 C Metallic Cabernet----34, 513 miles when purchased 09/2015
Now----92,365 miles
2007 1300 C Black----4,506 miles when purchased 12-31-2016
now----27,068 miles
I think I'll do what your Chicago Spike suggests.
I'll pull the cover off maybe I'll do a quick YouTube video as well and posted here. I think that's the surest way to get the best eyes ears and opinions as to what's happening.
I want to thank all of you ahead of time for all your help.
... And it looked like oil... I told you.
---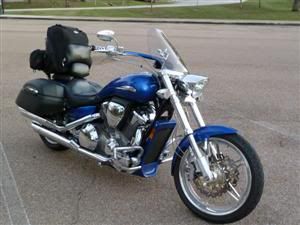 VTX 1800/280
You can say anything stupid. It's the internet. No real consequences for YOU.
So remove the left chrome cover but be sure to use the correct tool. And let us know where the leak is coming from
---
brothers in arms:
2003 VTX 1800C (new)
2002 HD FLSTF since 07/2008
" Today you raised more questions than giving answers "