Junior Member
Join Date: Aug 2019
Posts: 2
ECU fried?
---
30,000 miles. All original except k&n filter. Other than that was a running driving bike till I took it apart to replace rear head and oil pump. So engine has new oil pump, gaskets, o rings, plugs, oil, filter, and is super clean. Valves may need adjusting?? BUT..... I'm pretty sure the ECU is fried, because my buddy went to charge the battery, like I asked, while I was inside getting drinks and he hooked cables up backwards. So might have been that way for 10 min or so until I came back out and saw it. It starts, but give it any throttle and it dies. And spark is weak or non existent intermittently. And all plugs fouled black, quickly. Fuel, because of spark issue I'm assuming. Cleaned All grounds and connectors, same thing. Took it to Honda dealer ship. They said they hooked it up to diagnostics and it kept bringing up different codes at random but all they told me was it had issues and they couldn't pinpoint the problem without costing 1000s of $$. So.... Am I supposed to take that as, it's old and it's going to cost more than it's worth to figure it out there. Or it's my problem, good luck? Or did they do absolutely nothing? dies that not sound like an ECU issue? If you read all this, thanks! At this point, since the Honda shop crapped on my dreams!! I'm just trying to decide what to do, try ECU, or part it out
Junior Member
Join Date: Aug 2019
Posts: 2
Also I'm strapped on cash due to a recent motorcycle wreck and the numerous broken bones as a result of it. still hurts too much to go back to work. So I need to be as cheap as possible. Lol
Senior Member
Join Date: Jun 2005
Location: Conyers/McDonough, GA
Posts: 10,703
While charging the battery was the IGN switch On?
IF IGN switch was Off then only R/R and Tripmeters were actually getting voltage.
What amperage battery charger were you using?
>> 300 cranking amps battery vs a battery charger... No smoke could indicate charger blew a fuse or detected reverse voltage and shut down.. <<
Have you verified your sensor connectors? Throttle Position Sensor (TPS) Check it.
Do you have an aftermarket fuel manager?? Power Commander??
Do you have Fuel Pump prime???
What year and model?
30k miles is low mileage. Why an oil pump and rear head??
ECM error codes. See what shows up..
https://tech.bareasschoppers.com/res...odes-vtx-1800/
---
2005 1300c Red, Mustang seat, HK 2.5 straights. Leds for safety-front & back. 194,184 VTX miles
---
Last edited by Hans&Feet; 08-14-2019 at

05:37 PM

. Reason: Battery vs charger = battery wins
Depending on what bike you have, EBAY has used ones from $80 to $300. I have never purchased used electrical components but, if it is a nice bike I would not part it out.
---
2008 VTX1300R
Ultimate Seat
National Windshield - Modified
Cobra Light Bar
Hard Krome ? Pipes - 2 1/2"
Engine Guard - 1 1/4"
Quote:
30k miles is low mileage. Why an oil pump and rear head??
It's a good question. Maybe something more is going on...
---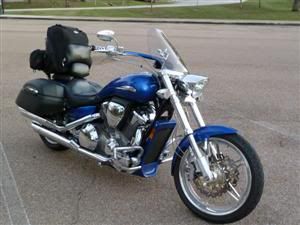 VTX 1800/280
You can say anything stupid. It's the internet. No real consequences for YOU.
Normally I would say a fried ECU would be a brick. Especially if it was a voltage issue. That said, with multiple random error codes, it could point to a fried brain. This is a really tough call. Again, generally speaking, if you have spark, then the ECU is doing it's job there. The ECU doesn't really have a way to make more or less spark, it either works or it doesn't. The obvious solution would be to find a similar bike and swap the ECU out and see if the problem follows the ECU, or using a known good ECU solves the problem. If you can find one for as little as $80, as was earlier indicated, then this may be a real time saver. If it's not the ECU though, you have a long road in front of you, unless you find something really simple, like a charred wire or burnt connection or something like that.
---

'12 Road Glide Ultra, Kuryakyn Alley Cat intake, Jackpot Super Duals header, Jackpot HiRoller mufflers, PV Tuner, Daymaker LEDs

It sounds like a coil problem or burnt wires to or from the coil.