stalling at stops and shifting in turns
---
BIKE 2004 vtx 1800 r, with 15000 miles on it. great condition.

Ok, so, This is my second bike, I've only been riding about a year and a half now and I'm still learning but something feels different from my last bike and I was wondering what peoples thoughts were and/or if there is something that needs attention.

It could just be my inexperience riding but when I am coming to a stop on my bike, the bike feels like it wants to stall out early and it has stalled a couple times from not engaging the clutch in time.
I know that when I come to a complete stop that I need to engage the clutch but it feels like I am having to do this earlier than I should, I don't remember having to engage the clutch as soon in a stop on my old bike.

Also, when I am going into turns it feels like the bike is bogging down or it is struggling to get going or I have to drop the gear to the point that the bike cant keep up and it wants to skid just so I can accelerate again. It feels like the bike is struggling at the lower end of the gears in the turns to keep up and throttle. Again I understand that it could just be my inexperience but I really don't remember having to shift as much in or through turns on my old bike.

lastly, it feels like the bike is lacking in 5th gear a little bit on the early side of the gear. I have to wait until Im going about 50pmh before I can shift up to 5 and have a good power transition, that might be normal too but it sounds and feels like the rpms are higher than normal at that point and that they are lower or struggling in 5th.

I know the owner before put a "desmoger kit" in the carb and did some other small modifications like a 3" handle bar raiser.

All the spark plugs are new, the battery is new, everything seems to be in good shape as far as the bike goes but it doesn't feel right
These bikes don't even start running good until you hit 60 or 70 mph. I only use fifth for highway riding, the rest of the time I keep the rpms up to eliminate the lugging. This is not a Harley, it doesn't like to be lugged down.
---
Clocks4Bikes clock and Thermometer.
Remember
, YOU ARE INVISIBLE!!!! Ride safely!!
2003 VTX1800C, Paladin Engine Bars, Viking Saddlebags, Ghost Brackets, Cobra Floorboards, River Road Back Bag
Senior Member
Join Date: Jun 2005
Location: Conyers/McDonough, GA
Posts: 10,594
Do the Ground Fix, look in the Step by Step board
---
2005 1300c Red, Mustang seat, HK 2.5 straights. Leds for safety-front & back. 193,834 VTX miles
Quote:
BIKE 2004 vtx 1800 r, with 15000 miles on it. great condition.



Ok, so, This is my second bike, I've only been riding about a year and a half now and I'm still learning but something feels different from my last bike and I was wondering what peoples thoughts were and/or if there is something that needs attention.



It could just be my inexperience riding but when I am coming to a stop on my bike, the bike feels like it wants to stall out early and it has stalled a couple times from not engaging the clutch in time.

I know that when I come to a complete stop that I need to engage the clutch but it feels like I am having to do this earlier than I should, I don't remember having to engage the clutch as soon in a stop on my old bike.



Also, when I am going into turns it feels like the bike is bogging down or it is struggling to get going or I have to drop the gear to the point that the bike cant keep up and it wants to skid just so I can accelerate again. It feels like the bike is struggling at the lower end of the gears in the turns to keep up and throttle. Again I understand that it could just be my inexperience but I really don't remember having to shift as much in or through turns on my old bike.



lastly, it feels like the bike is lacking in 5th gear a little bit on the early side of the gear. I have to wait until Im going about 50pmh before I can shift up to 5 and have a good power transition, that might be normal too but it sounds and feels like the rpms are higher than normal at that point and that they are lower or struggling in 5th.



I know the owner before put a "desmoger kit" in the carb and did some other small modifications like a 3" handle bar raiser.



All the spark plugs are new, the battery is new, everything seems to be in good shape as far as the bike goes but it doesn't feel right
50 MPH in fifth gear never, should not be higher than third gear. Remember you have 4 inch Pistons in this machine, pull the clutch in or it stall out and you may fall over!
Sent from my iPad using Tapatalk
What was your previous bike? Was it 800-1000 cc?
---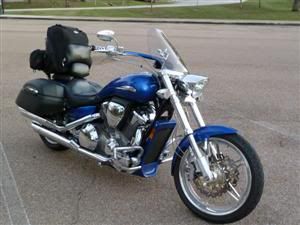 VTX 1800/280
You can say anything stupid. It's the internet. No real consequences for YOU.
You have an 1800. It is fuel injected, no carb. So likely the PO did desmog, but there is no carb involved.


To me it sounds like you are just not giving the engine the revs it needs. What bike did you come off of? Just let the engine spin freely. Once you get to chugging mode the engine is really hating life. The 1800 likes life best above 3000RPM.
---

'12 Road Glide Ultra, Kuryakyn Alley Cat intake, Jackpot Super Duals header, Jackpot HiRoller mufflers, PV Tuner, Daymaker LEDs

Yep, stay out of 5th until 60 mph or higher, lower than that and you're lugging the engine and it doesn't like to be lugged. Does the stalling at stops happen all the time or only with a low tank? If the fuel rushes forwards at stops, a low fuel tank will cause the fuel pump to suck air and it shuts off automatically as a safety to not burn the fuel pump out
Senior Member
Join Date: Mar 2018
Location: I live in central NM
Posts: 170
Amen Harkon. My 2008 1800 wants to run. I took a ride with friends. One had an 883 the other a kal 900. I did't think I was ever going to get out of 4th gear. Love to cruise at 80mph.
---
08 VTX1800F Cobra pipes, PC III, ROX 2"risers


"I have never been lost. I was once bewildered for three days, but I was never lost." Daniel Boone
You have LOTS to learn about the likes and habits of an 1800, and this is the place to learn it. For instance: What tire pressures are you running? This will affect the handling in turns at any speed.
---
2003 1800C Black w/ H-K 3", PC III, Clearview w/s, Hondaline backrest, XM sat. radio, MB 12" shocks, Prog. fr. spgs., Wolo, SPyKER mod, Glen's gas cap, Paladins, Drag Specialties Popsicle pegs, K-N, blackened engine, Kury RTB, mirrors & r. boards, blue LED's, Rivco tach & risers, LeatherLyke bags, backrest bag, w/s tri-pouch, Gen. Altimax RT43, Mich. Cmdr. II, Ult. Lowrider, Showchrome grips. 12-18 VTXCafe Bike of the Month
Senior Member
Join Date: Oct 2012
Location: Southern Middle Tennessee
Posts: 245
Maybe turn up your idle rpm a little?
---
2004 VTX 1800R "Once you go black you never go back"