Converting the 1800C muffler to closed circuit form
---
The VTX 1800C muffler is actually well designed to accommodate Honda's hp and tq output. Removing the Catalytic converter from the front of the muffler actually makes the muffler free flowing and afterwards there is a noticeable increase in throttle response and improved acceleration. The volume of the stock sound increases without a crappy sound like I have heard so many state their disappointment in the sound after drilling holes in the back of the muffler. Drilling holes in the back of the muffler doesnt make it more free flowing as the restriction is up front in the cat.

Removing the cat is the only internal modification I did. The other modification was external and involved removing the exhaust tip and cutting the 2 tubes close to the end of the muffler, then reinstalling the exhaust tip. This increased the volume even more and the sound is really awesome at idle and throughout the rev range but never obnoxiously loud.

Getting the cat out takes the most time but the difference in power is seat of the pants noticeable. It will make you feel like the muffler was really stopped up beforehand. It is that noticeable.

If you have always favored the single crankpin sound like I have you will be very pleased with this twin crankpin sound. It really sounds that good....and even though the twin crankpin Honda will never sound like a Harley (that is what the VTX1300 sounds like) The VTX1800C with this mod has a powerful deep sound and definitely has that big block rumble that lets everyone know this 110 isn't fooling around.

If you do this mod I would like to hear your comments on the difference afterward..
The one pic is with most of the cat removed. I actually scraped the remaining pieces out before I installed the muffler. It is a good pic of the shower drain like plate behind the cat. I left the shower drain looking plate intact. Only removed the cat.
Most of the VTX owners can't do this mod at all, because they don't have cat. converter in their exhaust system originally. Only California and EU bikes have cat. converter.
---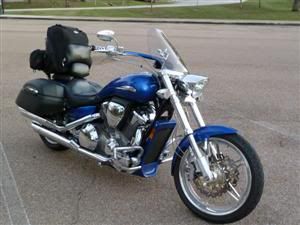 VTX 1800/280
You can say anything stupid. It's the internet. No real consequences for YOU.
...I removed mine using V$H Big Shots....
---
Phil...(72)"Nobody told me I die at the end"
2006 (bought new)...1300R Candy Black Cherry,DARKSIDE,foots mod..
..
Senior Member
Join Date: Jun 2014
Location: Jackson, MS
Posts: 2,853
Good info for those bikes that are applicable.