Junior Member
Join Date: Apr 2017
Posts: 11
XM Install
---
Ok, so XM sent me this nifty little receiver that will mount to my windshield w/ the little sticky thing.....I don't want to pay the dealer when I know the wiring brains to my bike are in the headlight, and I KNOW someone around here has done this. Can someone point me to a tutorial?
I know it says I'm new...I'm really not...I used to run around in here as ROKJOK from Fort Walton Beach....can't find my password and all that...so had to do a new account.
2005 1800N, in case that matters.
Lookin' forward to getting back in here and rubbing elbows with VTX fam, new and old.
TJ
Senior Member
Join Date: Nov 2008
Location: Utah's Area 51
Posts: 822
---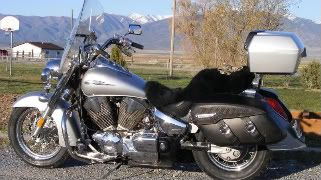 VTXOA 'Members Who Can Help' Map
<<---ClicHere
PGR RC, 2010 GL 1800 Endeavor Reverse Trike, DS#1146, 04VTX 1300C
AKA "Pooch" IBA#55800 SS1Kx3, SS2K,BB1500x2,BBGold, 50CC Certified
I have my XM Onyx mounted to my handlebars. The kit came with a little metal square for the magnetic antenna that mounts with one of the 2 bolts that hold the clutch reservoir. I have a Kury socket power point that I plug the 5.5V power adapter into, and this is directly wired from a 6 circuit fuse block, off the battery, and I have a Miccus Bluetooth sender that plugs into the speaker jack on the back of the Onyx dock. The Bluetooth goes wireless to the SENA 5 setup inside my helmet. The audio coming through the un-amplified speakers is fine w/o being too loud up to hiway cruising speeds, then it gets hard with a little more wind noise to deal with. I have a Hondaline w/s not a fairing. DID NOT have to get into the headlight for my tunes.
---
2003 1800C Black w/ H-K 3", PC III, Clearview w/s, Hondaline backrest, XM sat. radio, MB 12" shocks, Prog. fr. spgs., Wolo, SPyKER mod, Glen's gas cap, Paladins, Drag Specialties Popsicle pegs, K-N, blackened engine, Kury RTB, mirrors & r. boards, blue LED's, Rivco tach & risers, LeatherLyke bags, backrest bag, w/s tri-pouch, Gen. Altimax RT43, Mich. Cmdr. II, Ult. Lowrider, Showchrome grips. 12-18 VTXCafe Bike of the Month
Junior Member
Join Date: Apr 2017
Posts: 11
Thanks Jim! Right on the money, found the part I need for 16.99 on Amazon.....no shipping because I'm a Prime whore.....I'll have it Tuesday...shall be cruisin' with Watercolors on Wednesday!
---
2005 VTX 1800 N
Panama City Beach
Formerly RokJok from Fort Walton Beach