Senior Member
Join Date: Feb 2004
Location: Southern West Virginia
Posts: 1,559
Wish Ya all the best and I'll heft a pint t'Ya.

prs
---
"To hell with them fellas. Buzzards gotta eat, same as worms." Josey Wales

2004C
Hope you find all your dreams come true!
---
[SIGPIC][/SIGPIC]2008 GL 1800, 2005 VTX 1300R
Senior Member
Join Date: Aug 2009
Location: N.E.GA
Posts: 964
Good luck to you!!! These are tough times to start a new business, but with your reputation and local support, you'll do good!! Then when we get this economy turned around, look out!! You'll be hiring a bunch of employees..
---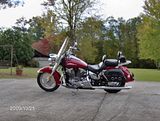 FREEDOM ISN'T FREE...SOMEONE HAD TO PAY FOR IT
If you can read this...thank a teacher.
If you can read this in English.....thank a veteran.
God Bless America !
WISH YOU THE BEST ON YOUR NEW PLACE
---
[SIGPIC][/SIGPIC]
1999 Valkyrie Interstate
1998 Valkyrie
2006 VTX 1300R - Sold
Hope it takes off Big Time for you ! --------Larry
---
[SIGPIC][/SIGPIC]If I Offend You Please Let Me Know So That I May Enjoy The Moment !

You can lead a Liberal to Wisdom but you cannot make him Think.