Wobble Wobble Wobble
---
So, hands off the handlebars (04 1300C 12K miles)and I'm dealing with a wobble that would take me down if I left my hands off the bar. Searching the forum I found a thread with a guy with the same issue. Hands off/severe Wobble.....hands on/all is well. The overwhelming consensus was the steering bearing needed replacement.

Before I order the bearing and rip into it, I'm hoping for the same consensus.

The other thing I read is it's a fairly straight forward operation requiring no special tools. I haven't looked at the shop manual yet. I'm hoping to find a video to review, although the manual I'm sure is good enough.

If this is the issue, what kind of cheap azz bearings did Mr. Honda source? 12K miles and they're mush. One thing I am happy about is, I'm handy with a wrench.

Thanks ahead of time for your imput!
---
My 2004 1300C
Senior Member
Join Date: Oct 2007
Location: London, Canada
Posts: 241
Well, bad, notchy, neck bearings were certainly the cause of the wobble I had on my 1300. Bad rear shock bushings could also influence the front and should be inspected, and replaced if bad. The neck bearings Honda used on the 1300 were ball type bearings and look like they belong on a bicycle, not a heavy motorcycle. Most install the ALLballs replacement bearings, which are tapered roller bearings and a significant upgrade from the factory neck bearings.
---
2004 VTX s, memphis shades w/lowers, Kury ISO grips, mustang vintage wide seat, progressive fronts, allballs steering head brgs, big bike parts risers, cobra tach, kury levers, cobra chrome front hub cover, cobra lightbar, cobra speedster slashcuts, tank bib, talisman saddlebags, Kuryakyn mirrors, Cobra passenger backrest with luggage rack.
Senior Member
Join Date: Jun 2005
Location: Conyers/McDonough, GA
Posts: 10,659
I had already installed the bearing upgrade and had a new tire cause the de-cel hands off wobble. I kept it for the duration[21k miles] and once replaced I cautiously tried hands off de-cel and all was well. No tire since then has caused the problem and I have not purchased that brand since then[front tire].
---
2005 1300c Red, Mustang seat, HK 2.5 straights. Leds for safety-front & back. 194,184 VTX miles
If u do the bearings be sure and use torque specs/procedures for 1800....takes longer to strip bike than do the bearings....good luck

PS...remember retorqueing the bearings is/should be part of proper routine maintenance.....
---
Phil...(72)"Nobody told me I die at the end"
2006 (bought new)...1300R Candy Black Cherry,darkside,foots mod..
..
---
Last edited by TennX; 09-17-2018 at

09:34 AM

.
I've had that issue on several bikes, and (for me) it's always been tires.

Two GL1800 Gold Wings like that, also.


Your situation may be different.
---
Happiness is a belt-fed weapon
Harley Road Glides of the approx 2012 vintage (that's what mine is) did the head shake thing. This fix was head bearing preload adjust. Fixes the problem outright. If the head bearings are good, maybe the preload is a bit loosey goosey.
---

'12 Road Glide Ultra, Kuryakyn Alley Cat intake, Jackpot Super Duals header, Jackpot HiRoller mufflers, PV Tuner, Daymaker LEDs

Senior Member
Join Date: Aug 2005
Location: Tampa/Valrico, FL.
Posts: 496
I was ready to replace my bearings but also new I needed new tires because of age and dry rotting. I replaced the tires and decel wobble went away completely.
---
8,000K HID Head Light Conversion, ISO FlameGrips, Kury Turn Signal Mirrors, Mustang seat W/ Driver Backrest, Paladin Backrest/luggage Rack/Saddlebags.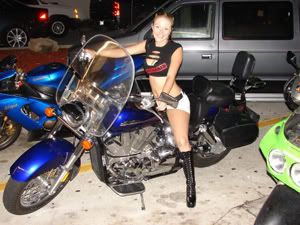 Senior Member
Join Date: Aug 2014
Location: Spokane, WA
Posts: 2,657
Glad to see ya back, Rog!
It's them neck bearings. I'm sure you can handle it!
---
2007 VTX 1800 F Spec 3 - Mustang Seats, Cobra Angled Slashcuts, House of Kolor Blueberry Pearl paint and custom tank badge, lots of chrome, lots of sanding and polishing on the aluminum!
other stuff - HID headlight, airbox decapped plus K&N, ground fix, PAIR/desmog, tail light area minimalized, horn relocation, fwd controls extension, switch spiders removed, reflectors removed, Barnett clutch kit, Cobra FI2000R
Just think of this for a moment: You have the wobble. You have a 1300. Every 1300 I've ever heard of or read about with the wobble, changing the steering junk neck bearings stops the root of the problem. This condition will lead to your front tire needing replaced. So you replace the front tire and the condition goes away. For a few thousand miles, then it crops up again. Why? Because you didn't stop the root of the problem. New, flexible, tread soaks up a lot of abuse from different sources and all feels right for now, but eventually you are back to square one. MY 2 c.
---
2003 1800C Black w/ H-K 3", PC III, Clearview w/s, Hondaline backrest, XM sat. radio, MB 12" shocks, Prog. fr. spgs., Wolo, SPyKER mod, Glen's gas cap, Paladins, Drag Specialties Popsicle pegs, K-N, blackened engine, Kury RTB, mirrors & r. boards, blue LED's, Rivco tach & risers, LeatherLyke bags, backrest bag, w/s tri-pouch, Gen. Altimax RT43, Mich. Cmdr. II, Ult. Lowrider, Showchrome grips. 12-18 VTXCafe Bike of the Month
Ive written about this before...at 46k my developed a wobble....after ruling everything else out ...checked the bearings they were in good shape Just needed retorqueing....since I was in there and had the all balz I did the deed....FWIW Ive talked to guys with 100k who did proper retorqueing maintainance (see manual) and didn't replace the stockers.....not saying dont do it.....FYI Goldwings had the same bearings as the 1300...go figure...good luck
---
Phil...(72)"Nobody told me I die at the end"
2006 (bought new)...1300R Candy Black Cherry,darkside,foots mod..
..