Quote:
To add,I only really feel it much in the seat and on the floor boards. Mirrors don't even shake much.

As for my profile, I can't find a place to put more info. I added a photo and changed my time zone settings but that's about all it will let me do.
Add your bike info in a signature line.
---
2006 Shadow Aero 750 (sold Oct 2018 )
2008 VTX1300T
Senior Member
Join Date: Dec 2015
Location: MISSISSIPPI
Posts: 125
Quote:
To add,I only really feel it much in the seat and on the floor boards. Mirrors don't even shake much.

As for my profile, I can't find a place to put more info. I added a photo and changed my time zone settings but that's about all it will let me do.
Click on "User CP" next to "Log Out" in right hand corner. on left side of page, many BOLD headings, under "Settings and Options" click on "Edit signature"
---
2007 1300 C Metallic Cabernet----34, 513 miles when purchased 09/2015
Now----92,365 miles
2007 1300 C Black----4,506 miles when purchased 12-31-2016
now----27,068 miles
Its an 06 vtx 1300 with a hypercharger.

Anyone have any insight to how much low rpm wide open throttle vibration/shaking is normal?
Don't know how much or even how to gauge vibration, but, I was used to smooth quiet inline 4s when I got my 1300. They do vibrate and they are noisy but tough as hell. After riding smooth bikes for many years the VTX feels really rough but ride a old Harley for a while and the VTX won't feel so bad. I've had mine for almost 2 years and hope I'll eventually get used to it. It's not a high rpm bike but it don't like lugging either.
Ok that's good to know. The most I've ridden before now was dirt bikes and seldom at that. But a much different beast. I've ridden a street bike before and while it had a bit of a buzz to it, High pitched but very mild, it didn't shake rattle and roll quite like this machine lol
Quote:
Tried to post this earlier to no avail but it seems to be working now. Anyhoo...

So I'm fairly new to riding and definitely new to a vtwin. Bought this bike off a navy seal friend of mine. Very well cared for with only 16k miles on it. Runs great, starts up in the morning with little effort and in warm weather doesn't even need the choke really. Warms up pretty quick. Engine is fairly smooth but...

At around what I believe to be around 2000ish rpms (no tach so impossible to really tell) I get some fairly mean vibration. Once I hit that "sweet spot" it lasts for maybe 500-700 rpms or so. When cruising with a light hand on the throttle the vibes aren't that noticeable really but they are certainly there. But once I go wide open throttle from a lower rpm range (which I know is lugging it a bit, but I don't want to cruise at 3500+ rpms at all times) the vibes get pretty intense. Mostly felt in the saddle. Its not intensely uncomfortable or anything but I am a bit paranoid about "less than smooth" engine characteristics and I'm not used to a v twin so I want to make sure I catch problems early before they become big problems.

This very well may be the characteristic of the bike. Its got some loud pipes and for all I know the vibes I'm feeling may just be the sound reverberating on the chassis. The mirrors rattle enough to make distant cars indistinguishable for their model when the vibes are at their worst but still plenty visible. Nothing I don't think one would come to expect from a motorcycle with a v twin rumbling. Its just those intense vibes in the seat in that very specific rpm range that has me paranoid.

So my question is this. Is this normal? Am I just being over critical or should this thing be as smooth as a car through all the rpm ranges? How much vibration is normal and what is considered "too much"? I'm more than comfortable with the feeling of what's going on. I just want to know it's normal so I can be at peace with it. And if it's not, what I need to do to fix it.

I've already put a wrench to all the motor mounts and everything was tight and the engine is snug to the frame as you would expect it to be. When revving up in neutral while sitting in my garage the motor doesn't visibly shake or act weird or anything. Only mod the bike has performance wise is a kuryakyn hypercharger with jets and all that, and I dunno what's going on with the exhaust but it's beastly loud and the videos I've seen of these stock seem to be quieter so he may have done something with the exhaust. I recently changed all the lube and swapped out the spark plugs. Idles like a machine gun. Steady and with gusto.

Can anyone elaborate here?
Something very similar has been reported in the forums before.
Here's a thread, there are more:
https://www.vtxoa.com/forums/4025026-post1.html
Does it sound anythink like the 1300C in this Youtube video"
---
https://www.vtxoa.com/forums/members...0-img-0531.jpg
2007 VTX 1300R Pearl Challenger Brown (aka Titanium)
Oh god no. That's a crazy sound. Id be flipping out if my bike was making noises like that. Its not a noise, it's a vibration. I feel it. Mostly just in the seat and foot boards. Very well could just be lugging it with loud pipes reverberating off the frame. The bike is loud..
I bought my 2004 1300S in April after riding A Spyder RT and then a Goldwing 1800 for the past 3 years.
3 things struck me right away:
1. The vibration of the VTX. It felt extreme to me but after reading on the forum it appears to be normal
2. Regardless of where I set the rear shocks, I got a real jolt whenever I went over a bump
3. The stock seat sucks for me

The first thing I did was order an Ultimate Lowrider solo seat as my wife doesnít ride on the back any more. I didnít order a backrest but the seat comes with the hardware built into the seat if I ever want to add it.
In my opinion the seat has the proper name. I can now ride all day with absolutely no discomfort. Also, I now get less vibration through the seat and I donít get the severe jolt when I go over bumps.

But yes, the bike vibrates.
---
Greg
2004 VTX ďSĒ 1300 - Black of course cuz itís the fastest color
Senior Member
Join Date: Nov 2008
Location: Utah's Area 51
Posts: 824
My wife's 04 1300 C vibrates real bad at anything above 40 mph or so, vibrates so bad you can't see anything in both mirrors. I have checked everything I can think and still can't figure it out/
---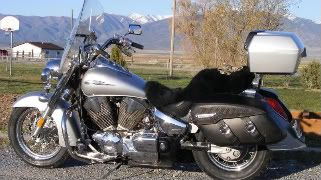 VTXOA 'Members Who Can Help' Map
<<---ClicHere
PGR RC, 2010 GL 1800 Endeavor Reverse Trike, DS#1146, 04VTX 1300C
AKA "Pooch" IBA#55800 SS1Kx3, SS2K,BB1500x2,BBGold, 50CC Certified