Sad...
---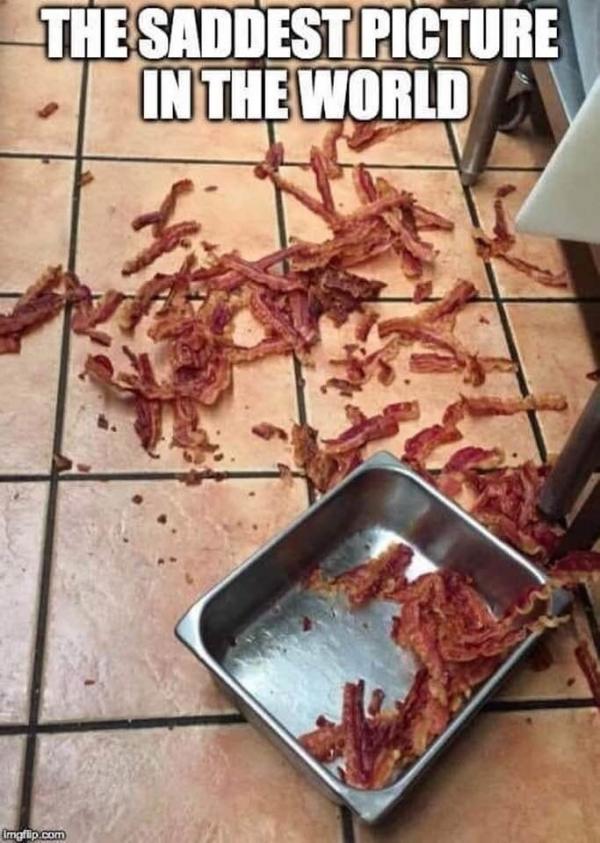 ---
Democrats & Republicans- 2 Sides Of A Counterfeit Coin.

I'm Not Politically Correct - I'm Honest.

'07 1300 S XTreme Revolution Intake, Cobra Streetrod Slashdowns, Monster Baffles. 128,788 Miles R.I.P.

(New) 2014 V-Star 1300 Tourer, Lindby Hi-Way Bar, Saddle Bag Protectors, Cobra Slip-On, Cobra Fuel Processor, Cobra PowerFlo Intake. Wolo Bad Boy,
ED Seat, Yamaha Light Bar.
Why? You can still sweep it up and eat it!
---
2008 VTX1300R
Ultimate Seat
National Windshield - Modified
Cobra Light Bar
Hard Krome ? Pipes - 2 1/2"
Engine Guard - 1 1/4"
Senior Member
Join Date: Dec 2015
Location: MISSISSIPPI
Posts: 132
Look on the bright side, 1/3 of it is still in the pan!!
---
2007 1300 C Metallic Cabernet----34, 513 miles when purchased 09/2015
Now----92,365 miles
2007 1300 C Black----4,506 miles when purchased 12-31-2016
now----27,068 miles
Just put it on top of the meatloaf, no one will ever know.
---
[SIGPIC][/SIGPIC]
Jim: 04 VTX1800R spec 3, Candy Black Cherry, Hondaline windshield/
saddle bags/backrest, Mustang Seat
1 1/2 fatty hwy bars, hwy pegs,
Cyclecraft Tach, Breakaway, Chrome tips.
10 second rule.
---
2006 VTX1800F1

The roads are calling and I must go!
As long as there is enough for two, big BLTs in that pan it will hold me over until the grocery. Looking at the pan in the pic again the wife won't go hungry either.

I might eat dead pig but I ain't eating it off the floor. Kinda picky that way.
---
When you are young you want what everyone else has . . when you are old you want what everyone else had.
D. Lee Schulte I ride a Honda because Toyota doesn't make motorcycles. 2005 VTX 1800N3 (black)
From the picture, that looks like a restaurant and that on the floor would be thrown in the garbage. But I have worked with a few people that would pick it up and put it back in the pan, not me though!


Dan
---
'07 1800N, Ultimate Big Boy seat, USA Trailer Store fairing w/Long Ride Shields 9" windshield, Leather Lyke bags, G-Max 195/60-16 tire, MCHitch trailer hitch, Cycle Mate CM2000 trailer
Actually, for a restaurant floor, it looks pretty clean. And...for the record, there are many of those strips that are laying 'on top' of other strips and have yet to touch the floor. IMHO...THOSE are safe to eat.
Personally, as long as no one has stepped on them, I would pick em all up, wash em off and reheat. HOWEVER, I WOULD NOT serve them to anyone else. They would be my secret stash.
---
This post created with 100% recycled electrons.

Take Care...and, Stay Safe!

LJ
My wife and I would still eat it up to a few minutes, or before it had a chance to cool off.
---
2003 1800C Black w/ H-K 3", PC III, Clearview w/s, Hondaline backrest, XM sat. radio, MB 12" shocks, Prog. fr. spgs., Wolo, SPyKER mod, Glen's gas cap, Paladins, Drag Specialties Popsicle pegs, K-N, blackened engine, Kury RTB, mirrors & r. boards, blue LED's, Rivco tach & risers, LeatherLyke bags, backrest bag, w/s tri-pouch, Gen. Altimax RT43, Mich. Cmdr. II, Ult. Lowrider, Showchrome grips. 12-18 VTXCafe Bike of the Month
Senior Member
Join Date: Jul 2018
Location: Kalyfornya, TX
Posts: 869
Quote:
And...for the record, there are many of those strips that are laying 'on top' of other strips and have yet to touch the floor. IMHO...THOSE are safe to eat.
You must play Mikado a lot.
---
VTX 1800C