Water Pump Install.....
---
06 1300R with 44,961 miles
.......My apologies for no pics or vids...but if you use the manual and these tips should be a piece of cake.....Remember to drain the oil and coolant before removal...I don't know why but the manual shows the pump split , it is not necessary to split for removal or install...the new pump comes bolted together....... align the pump drive with the oil pump drive and it slides right in...2 bolts #23 are the bolts that hold pump on...Bolts #13 hold the 2 halves together and come with the new pump as does a bracket stud......You will need to order new O rings #20 and #19....for ease of removal its best to remove #8 pipe bolt #22 at the pump and remove bracket bolt #22 before you remove the pump and then remove pump and separate at the pump ..and reinstall in pump before you install the pump....no need to loose all the hoses....the small nipple at 3:00 needs a worm style clamp....... ...hope this helps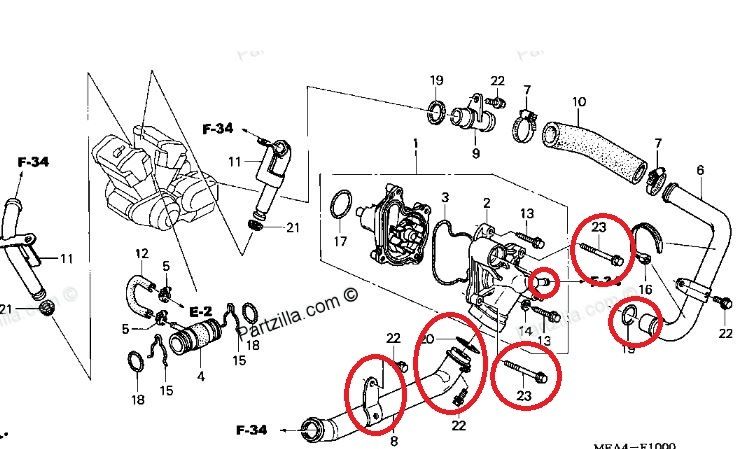 ---
Phil...(72)"Nobody told me I die at the end"
2006 (bought new)...1300R Candy Black Cherry,DARKSIDE,foots mod..
..
Junior Member
Join Date: Jan 2016
Posts: 1
It is really good post. I am searching for the manual of water pumb installation for a long time. Thanks for this share.
Good write up and good guidance when I had to change the water pump on my 2006 VTX 1300 R at a few miles from hitting 44 K. Starting leaking some time back, but I figured it was just the coolant vent leaking. It always had a full system when I checked it, but the other morning I came out to the garage and noticed a flat on the rear from riding the day before, while I was checking on this noticed a puddle of coolant and on closer look found it coming from the weep hole. Had to use a mirror to find it. It was coming out pretty good. I believe the service manual calls it the tell-tale hole. I pulled the water pump off and everything looked good including the O-rings etc, but the manual mentions "water pump mechanical seal being defective " could cause this leak. Must be something on the inside of the pump. Anyway, ordered a new pump, o-rings and screws from a place in California called Temecula Motorsports. com. They had the pump for $136.00 plus the other items I needed and shipped free. I checked with dealer who wanted $198,00 for the same part. I did not mind waiting four or five days to get it for that kind of difference. I got the order in tonight about 7 PM and decided to install it since I had pulled the other one already. Everything seems to work out OK with this write up and the service manual as a guide. Had to change oil and coolant. Does not appear to be any leaks so far, but will give it a test ride tomorrow. While the Service Manual does not mention this, most people seem to recommend putting lube on the coolant system O'Rings. Most recommend you use Silicone grease and the best place to find it is in the faucet repair section at Home Depot. It costs under 4 dollars. I used it.
---
Last edited by cal_105; 01-17-2017 at

05:20 PM

. Reason: More information