Heya all,

I will get some more updates and info for you in the am.

I found a bunch of things we need to tweak.

Jeff
Using Android phone can't scroll to right on the "Active Topics" page, so I can see the left side of the page only. Similar issue when replying. Can't scroll to left or right or zoom in or out, so can't see everything I typed already and can't scroll to the right to add emoticons.
In posts, I'd place personal info (join date, location, etc.) to the right of avatar not underneath. It would take up less space that way.
---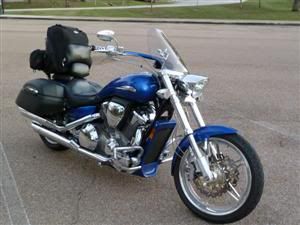 VTX 1800/280
You can say anything stupid. It's the internet. No real consequences for YOU.
---
Last edited by ervin260; 12-16-2015 at

03:18 AM

.
Very difficult to read.
If you wanted to chase away users, you might just have found the ticket!
---
Quote:
What happened to the ability to edit one's posts?
Quote:
What happened to editing a posting if error are noticed?
Quote:
I tried to edit a post, got a notice that to edit, the post has to be less than 10 minutes old.
Watch what you say ...... there will be a time limit to edit IF IF IF they ( new owners ) want to allow it at all.
Probably won't be able to delete your own threads either ......... what you say will be permanently remembered once you pass the edit deadline!
---
Quote:
I'd like to see some more separation between people's post and their signature. They kind of blend together.
I'm on several other forums that have made similar upgrades to working systems and this separation problem is a common complaint.
.
---
Quote:
What is the "Get Premium" link? Are there going to be paid features on this site soon?
Another 'new feature' ..... they can offer you a Premium Account where you pay to have advertising removed from your content.
Some other forums are offering that at different levels.
Some even give you access to data base information if you buy a high enough account.
---
One feature that seems to be a step backward is the size of the New Thread window. One now needs to click a preview to see the whole view.
---
2006 VTX1800F1

The roads are calling and I must go!
I don't mind the new look with the option of going back to classic.
As with everything, it will take a little time to get used to it. It's too early to be critical.

One very important element is missing from the threads under "NEW POSTS"....There is no CREATION DATE
Please add this back, you really don't know how old or dated that particular thread is without having to open it.

Thanks.
Senior Member
Join Date: Jan 2007
Location: Lexington, Kentucky
Posts: 826
Member list
---
I have not found where the complete list of members is located.
---
Red '04 1300C, Corbin DT, Hondaline WS and backrest, 1300R bars w/TM risers and Iso grips and Brakeaway, Cobra Slashdowns, Foot's Mod, buffed wheels, Progressive fork springs, PaPa's Down Under bracket ....
Senior Member
Join Date: Aug 2004
Location: North Carolina
Posts: 9,874
Quote:
I'm not able to post or reply in firefox. I had to open in IE, but don't use IE. I'm using firefox/noscript as my main browser and never had an issue before? My guess is there are a lot of people who can't post currently. Just FYI.
I think blocking Phatv from posting should be considered a FEATURE, and not a BUG.
---
Si vis pacem, para bellum.