MN to Colorado ride ideas
---
Hello all. I am in the planning stages of a MN to Colorado trip for Summer 2019. Planning for a summer trip is one of the things that helps me withstand these long winters here in the Northern tundra. I'm looking for ideas on roads, routes, and must see spots. I have done the black hills and Spearfish canyon and some spots I wouldn't mind doing again. I'm open to ideas on routes and places to visit along the route and in Colorado. I have about 7-10 days for this trip and will be doing it solo. My ideal ride would include scenic routes (architectural off the beaten path, nature) and areas of historical significance. I'm just starting out on photography as the other money pit other than my bike so the more material I have to work with along the route the better. All ideas welcome.
What part of Colorado are you heading too?

There are a lot of historical stops along I-80/US34 in Nebraska such as Pony EXpress and wagon trains. Scotts Bluff is interesting. The SAC air museum is between Omaha and Lincoln, NE just off of I-80. It is worth a stop.

In Iowa is the Motorcycle Museum started by the owner of J&P Cycle in Anamosa, IA. It is nice. Of course if you want to spend money J & P Cycle is there too.

Near La Junta, CO is the Bent's Fort. Sand Creek Massacre National Monument is near there also but on a dirt/sandy road. My uncle rode into there on a GW. I did not try it on my X or RSV. I was in a van when i visited it. It gave me a very sad feeling.

Colorado highway 12 from Trinidad west is very nice. Then US 160 west to Durango is a good ride. Just be careful of the deer/elk in the mornings and evenings. West of Durango is the Mesa Verde. Then there is the Million Dollar Highway, US 550, and Silverton. US 50 from where ever you want to get onto it through Colorado is great.

I really liked the ride up Mt. Evans, the highest paved road in North America. It is higher than Pikes Peak. In the NW there is Dinosaur National Monument.

Once in Colorado and west of I-25 just wonder and you will enjoy it. Open up a map and pick a road. You can't go wrong. The I-25 corridor is a nightmare and this comes from a guy living in the Dallas-Ft. Worth Metroplex.

Enjoy
---
My VTX
as used
on Race Tech site
.
I'm70
rode
07 Black Cherry VTX 1300R
to
49
States+DC &
11
Provinces,
140,000mi
+Yamaha RSV,
42,000m
i,both w/aux tank & Race Tech Suspension
IBA:Mile Eater Bronze &Silver,SS3000,3xSS2000,EclipseSS1000Gold, 20SS1000,6xBB1500,3TX1000,NPT 29/76; Lake Superior Circle Tour
15 to 20K per yr between the two MCs
Senior Member
Join Date: Aug 2007
Location: RGV. Texas, Former N.E. Ohio
Posts: 8,741
---
I'm headed to Colorado springs. I have 3-4 days to spend riding around CO depending on how long I stretch out the ride out from MN. Thanks for these tips. This is also my first solo significant distance ride so these proven roads are a great head start to my ride planning.
Senior Member
Join Date: Aug 2007
Location: RGV. Texas, Former N.E. Ohio
Posts: 8,741
when you are out there... Stay OFF the Freeway/Expressways..
way to many good motorcycle roads
I have been to Colorado ... 3 times by motorcycle.. from Ohio.
hide cash on the bike... carry a cell phone..
and 2 different credit cards.. different accounts.
anything else you might need...
Walmart is just 10 miles away.. ( from any place )
Senior Member
Join Date: Nov 2008
Location: Utah's Area 51
Posts: 824
Any road west of I-25!
---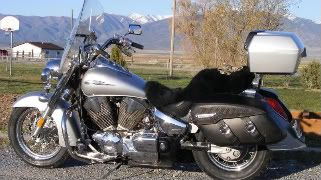 VTXOA 'Members Who Can Help' Map
<<---ClicHere
PGR RC, 2010 GL 1800 Endeavor Reverse Trike, DS#1146, 04VTX 1300C
AKA "Pooch" IBA#55800 SS1Kx3, SS2K,BB1500x2,BBGold, 50CC Certified