Discussion Starter
•
#1
•
Just completed a new build on my bike so I am selling the stuff that I took off and not reusing. To check out my new build check out the post here:
http://www.vtxoa.com/forums/showthread.php?t=310924
My bike has alway been garage kept and I take care of it so the parts I am selling are in good used condition. All of these parts are off of a 2006 Honda VTX1300R/S.
HK Sideburner Exhaust off 2006 VTX1300S w/ approx. 15k miles. Exhaust sounds and looks great on the bike. There are a couple of rub spots on the chrome where the two pipes rubbed against eachother when the exhaust is mounted on the bike but you can't see them when the exhaust is on the bike. I didn't even know that they were there until I took the exhaust off. The mounting bracket has a little rust on it as well.
Asking $400.00 Shipped OBO: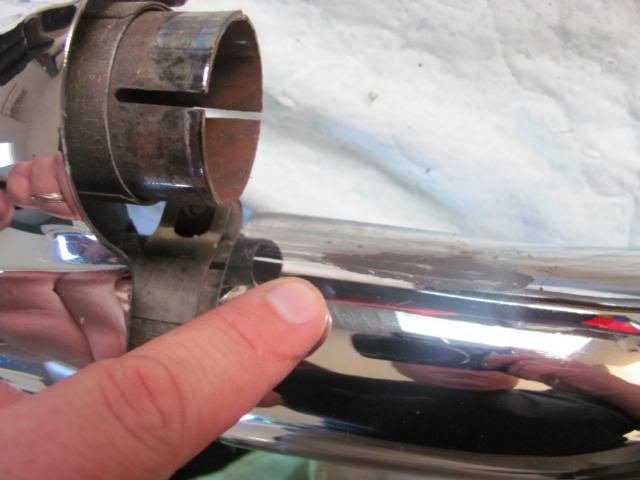 Memphis Shades 21" Windshield & Mounting Brackets for a 2006 VTX1300S. Has a few minor scratches from use (Rocks, Bugs, ect). This is not the new cheapo plastic quick release type. All parts are metal. Asking $225.00 Shipped OBO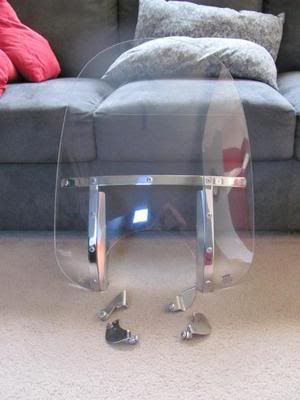 I have a set of Big Bike Parts 4" Risers (1" Pullback). Off of a 2006 Honda VTX1300S. They have a small piece of chrome popping off on one of the top clamp pieces. I didn't notice it until I photographed them for this post so not sure how long it has been like that. Asking $60.00 Shipped OBO.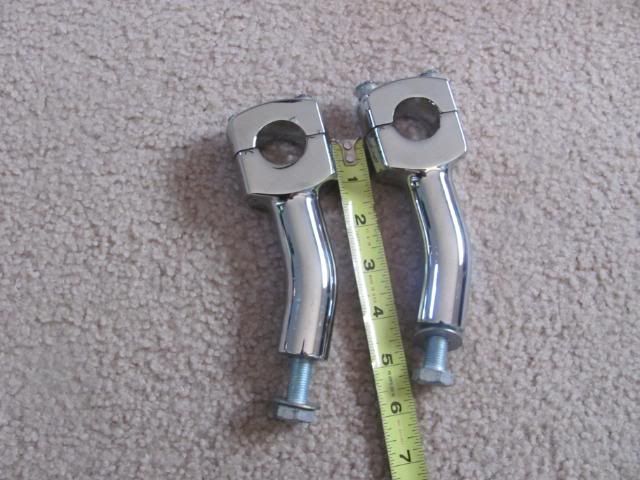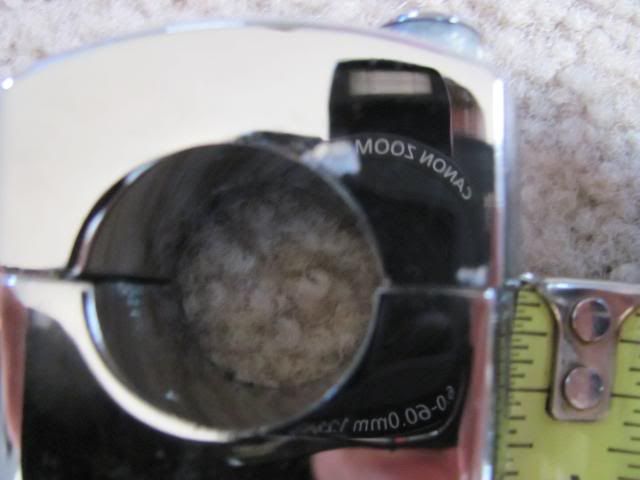 Set of Stock Handlebars off of a 2006 VTX1300S. Asking $60.00 Shipped OBO.
BadX Modded Stock Seat. Modded to put me lower and back further in the saddle. Passenger Pillon w/ Upgraded Foam. I am 6'0, 250 lbs, w/ 34" inseam. Worked well for me. $125.00 Shipped OBO.
Set of Stock Risers w/o cap bolts. Asking $20.00 Shipped OBO.
Stock Rear Brake Light Assy w/ Wiring. Asking $75.00 Shipped OBO.
Right and Left Stock Rear Turn Signal Assy w/ Wiring. Asking $40.00 Shippped OBO.
Stock Clutch and Brake Levers. Asking $20.00 Shipped OBO.
Right and Left Stock Mirrors. Asking $45.00 Shipped OBO.
If you have any questions please shoot me a PM. Thanks!