Discussion Starter
•
#1
•
SOLD: Large X Riders Back Patch (Classic Style)
This is the classic / old school style (flame logo, where the "V" and the "T" of "VTX" are hidden in the flames), and the official patch used by many state VTX / X-Riders groups. This variety is slightly larger than the newer style that is also available -- dimensions are 9.75" wide x 10.5" tall.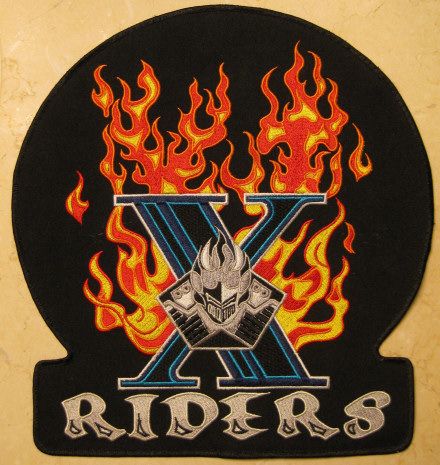 Back in the heyday of the VTX, these patches were easy to find, and the selling price was at least $50 new. These days, they are no longer produced, so it's not easy to find one. I am selling mine for
$35 shipped
(anywhere in the continental USA), and it is in brand new condition. It was on my vest for a very short time, and has been stored in a closet, in a Ziploc bag, for the last couple of years. The only way you can tell it's "used" is if you look at the back of it, where a few streaks of hot glue once held it to my vest. As you probably know, this is how most leather shops put a patch on a vest -- they put some lines of hot glue on, get it positioned how you like it, and then sew the patch around the outside border. The glue that's there will pose no problem for putting the patch on another vest, and will not be noticeable or a factor in any way.
Please
shoot me a PM
if you're interested in this patch. Thanks!