Discussion Starter
•
#1
•
Just to confirm after my first rear wheel removal / tire change.... Does this spaceout between the final drive housing and hub look correct? Just wanted to make sure I didn't have some kind of issue with the spline not properly seating in the final drive.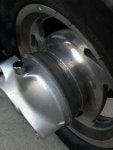 (I know, I know, the wheels are in bad shape -- It's a used bike, I've been out of the country half of the year and I just destroyed my powerball cleaning the front wheel!)
On a potentially (?) unrelated note: I noticed after changing to Cobra Swept exhausts and these new Metzeler 880F/888R tires, I get an occasional buzz in the frame during deceleration usually at +/-25mph that lasts under a second but is alarming nonetheless. I found a lot of discussion around a potentially similar issue here -
http://www.vtxoa.com/forums/showthread.php?358049-Noise-in-rear-of-bike&highlight=buzz+sounds
- but didn't see many convincing suggestions. I've never encountered this issue until making these changes. Any thoughts?
Thanks in advance!